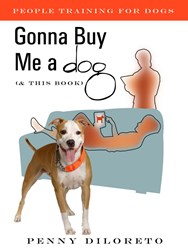 Look at it from your pet's point of view.
Escondido, CA (PRWEB) October 29, 2013
These are not the dog days, says expert Penny DiLoreto.
"Look at it from your pet's point of view: holidays mean kids in spooky costumes, tons of extra food, strangers milling around the house making loud noises," she says. "This can be a threat to the pack – as your dog considers your family – increasing their stress and nervousness even to the point of sickness or aggression. Nothing kills a party like an animal who is throwing up or a guest who is bleeding from a bite."
Dogs are territorial and live in packs and the home is a place to protect. Strangers don't belong. At the same time, the special foods that come with the holidays can be nauseating or even life-threating to cats and dogs.
Here are some tips to help keep your pet happy and healthy this holiday season:
Halloween

Treats from the candy collection are a mean trick to play on your pet. Raisins and chocolate are especially dangerous. Contact your vet or emergency pet hospital immediately if you think your dog or cat has eaten candy or hazardous food.
If you want to give your pet doggie treats, beware of products made in China. Check out Dangerous Dog Treats Recalled and FDA Asks Dog Owners For Help With Illnesses Linked To Jerky.
If your dog wears a costume for the evening, make sure their vision and breathing aren't blocked.
Keep an eye on your pet when trick-or-treaters show up at the door. Strangers, especially strangely dressed-ones, can frighten a dog, and one jump can knock down a child.
Thanksgiving

No turkey bones for the dog. The hollow bones can splinter and injury your pet.
Don't feed your dog from the table unless you're willing to reward begging or risk stealing when you look the other way.
Christmas

Spicy food, like candy, can be upsetting to your pet. Don't give them fat sliced from your steak, either.
If your pet isn't comfortable around strangers at the party, find a quiet room where they can relax in peace while you entertain.
DiLoreto suggests "BEGGIN FOR IT" a Safe and Locally Made jerky product for pets that comes in Chicken, Pork, and Salmon. For answers to your specific questions, contact DiLoreto at K9 Dog Park.
DiLoreto graduated from the Animal Behavior College and earned certifications from the Certification Council for Professional Dog Trainers and Do More with Your Dog! She authored Gonna Buy Me a Dog and The Potty Training Answer Book. DiLoreto and her husband David own K9 Dog Park in Escondido, Calif.
Note to Editors: Penny DiLoreto is available for interviews.