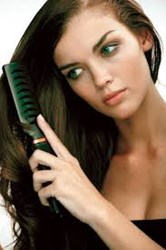 Using the right hair brush has changed the condition of my hair and made styling it much easier.
(PRWEB) October 26, 2013
TheBeautyPlace.com reveals that a hair brush can be the best investment for hair, but working with the wrong brush can wreak havoc. Working with the wrong brush can leave behind thinning hair, some insane frizz, and a result that far from the hairstyle desired. When holiday parties and festivities take place, be sure to be handling the appropriate brush for the hair type and hairstyle looking to be accomplished. With so many brushes on the market it may be difficult to distinguish which is most suitable for a specific hair type and style.
If looking for a brush that is terrific for massaging the scalp, detangling, and smoothing naturally straight hair, a paddle brush would be the correct choice. Paddle brushes can be used every day. The Macadamia Paddle Brush is a 100% boar bristle brush ideal for longer and thicker hair styles. It helps create volume at the roots and create body. Paddle brushes work wonderfully for hair of any length.
For any blow dry look, a round brush can be used. Round brushes such as the Bio Ionic Classic Round brush are a tremendous help for creating style with body and bend, or when working to smooth natural texture. While styling with a round brush, controlling tension is easier, this is essential to smoothing out hair or building style that lasts. Round brushes are available in a variety of sizes, styles, and materials. Use a small to medium barrel for shorter hair to create more volume, texture and for a layered style. The smaller the barrel of the brush is, the tighter the curl. Use a large or extra-large barrel for long hair to create sleek and straight hair or to give volume to the roots.
Vented brushes have holes or slits through the back and are designed to help decrease drying time by allowing air to flow through the brush. Vented designs are available in paddle or round shapes and are very effective at creating and enhancing texture. If volume is the look that's wished for, vented brushes are wonderful. The CHI Turbo Vent brush is the ideal vented hair brush for blow drying short to mid length hairstyle. The longer bristles give maximum lift from the root area. Designed to maximize hot air circulation, light and much easier to use than a round brush, this brush will help style and dry your tresses much faster and better than usual.
Hair has a natural positive charge that repels hair strands from each other, thereby causing frizz or fly-away hair. When the negative ions of an ionic hair brush react with repelling hair, the ions force the strands to lay straight alongside each other. Using an ionic hair brush typically gives hair strands a shiny and healthy appearance. When the hair cuticle is flattened, hair typically is softer and has more volume. If the weather or hair type creates a lot of frizz, be sure to use an ionic hair brush. Bio Ionic caries many types of ionic brushes that can be a big help to managing hair.
Boar bristle brushes are made with actual hog hairs. They are natural and have a number of benefits including the ability to attract dirt, distribute oils, and impart shine. A boar bristle brush can offer a lot of tension, making them great for straightening. Thick, wavy, or curly hair absolutely love boar bristles, which is something to keep in mind when choosing a hair brush. Macadamia makes boar brushes that are paddle, round and vented in style. Boar bristles will help manage voluptuous tresses, detangle them perfectly and without damage to the hair.
Based on hair length and what style is wanted to be achieved will determine which brush to use. Having the perfect hair style this holiday season is not far from reach with these tips. The right hair brush can dramatically affect the condition of the scalp, hair strands, and overall outcome of a hair style. Changing brushes may ease a morning routine, or make it even faster. One thing to keep in mind is quality. Buying the cheapest brushes will only mean that they will not last very long, and may end up scratching the scalp. A good brush is a worthwhile investment and will help locks stay healthy and in the best possible shape. Treat hair well, and it will return the love.