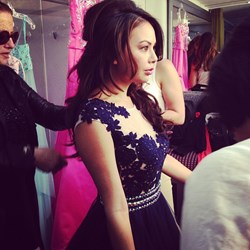 She's truly a talented, leading figure that many girls can relate to and be inspired by, especially as they prepare for one of their most important nights of the year.
Secaucus, NJ (PRWEB) October 31, 2013
Camille La Vie & Group USA is pleased to announce the upcoming launch of their spring line, otherwise known as their Prom 2014 Dress Collection, with their capsule wardrobe modeled by 'Pretty Little Liars' celebrity starlet, Janel Parrish. This special feature consisted of a celebrity shoot photographed in Beverly Hills, California with the actress strolling along areas such as the high-end, chic fashion streets of Rodeo Drive and amidst the beautiful, picturesque views of Melrose Beach in a variety of on-trend looks designed by the retailer. This special collaboration with Parrish consists not only of a major photo shoot, but also a special guest judge appearance in Camille La Vie & Group USA's annual Prom Queen Search called "Celebrity Prom", partnered with Seventeen Magazine this coming spring season – a major marketing initiative aimed at aligning the company's solid brand messaging to prospective Prom girls with an on-brand celebrity talent that they will surely identify.
On-trend fashion looks that were modeled by the star include elements of decadent all-over lace, tasteful illusion detailing around the neckline or torso, artfully embellished beading and rhinestones and soft, wispy looks comprised of luxurious chiffon. This special collaboration aims in creating a meaningful connection between the company's young, fresh and stylish prom dresses with a top teen celebrity's own fashion-forward sensibilities. And in addition to furthering the company's trendy and fashion-friendly brand messaging, the new content will extend the brand conversation online, driving more exposure of Camille La Vie & Group USA's company, the brand and its merchandise virally, especially via social media.
Camille La Vie & Group USA President Denise Viotti states, "We couldn't be more excited to be featuring Janel for our Prom 2014 campaign. As a young, ambitious lady with impeccable fashion style, confidence and grace, she serves as the perfect embodiment of our brand. She's truly a talented, leading figure that many girls can relate to and be inspired by, especially as they prepare for one of their most important nights of the year."
About Janel Parrish
Born in Hawaii, Janel started her career with a love for music. She entered and won a state-wide singing contest at age 6 and soon followed that with being cast in the National Touring Company and Broadway Company of Les Miserables as "Little Cosette." It wasn't long before Janel's Broadway experience and recognition led her to acting auditions in Hollywood. While studying acting, Janel continued to train vocally, eventually adding piano and dance to her repertoire. She also began writing her own music, which led to becoming the lead singer in a 3 girl pop group called "Impulse."
The past few years has seen Janel appear in many television shows and made-for-TV movies such as "Gepetto," "Baywatch," "The O'Keefe's," "The Bernie Mac Show," "Zoey 101," and "The O.C." In the summer of 2007, Janel made her feature film debut starring as Jade, one of the lead characters in the Lionsgate feature film Bratz: The Movie. Immediately following the film's release Janel was cast as a guest star on the NBC hit show "Heroes." Janel plays May, the head cheerleader at the new school that Claire (Hayden Panettiere) attends.
In 2009, Janel was quite busy filming multiple episodes as Kyla on the hit TV-show, "True Jackson, VP" on Nickelodeon and has starring roles in two feature films, "One Kine Day" and "Knots."
Currently, Janel can be seen on Tuesday nights appearing as "Mona" in the top-rated ABC Family TV series, "Pretty Little Liars." Recently, Janel appeared as a guest star, on the hit CBS show "Hawaii Five-0." Janel is starring in new film, "The Concerto" playing the lead character, Lisa Wagner.
Janel currently lives in Los Angeles and is well on her way to achieving her dream of becoming a recognized film actress and a solo recording artist.
About Camille La Vie & Group USA
Camille La Vie & Group USA is a one stop boutique to all things party dress chic in prom dresses, homecoming dresses, wedding dresses, social separates, day into evening dress styles, bridal, formal accessories, jewelry and shoes. They offer one of the most extensive and stylish collections of special occasion dresses that can be found under one fabulous roof! Since its inception in 1985, the company's motto of "to provide customers with the latest dress fashions at an affordable price" has made them a leading retailer in virtually all categories. To date, Camille La Vie & Group USA has expanded to a total of 24 stores nationwide.
In select Camille La Vie & Group USA stores, customers will discover a collection of bridal apparel including wedding dresses, bridesmaid dresses, flower girl dresses, mother of the bride dresses and guest of wedding dresses. Camille La Vie & Group USA also provides bridal alteration and consulting services. So whether your style is classic and elegant or modern and chic, Camille La Vie & Group USA will outfit stylish women of all types without breaking their bank!
If you're in a committed search to score a certain dress style, Camille La Vie & Group USA is your one-stop source for all things pretty – from on-trend high to low dresses, mirror stone and chunky beaded bodices, bright and bold hues, florals and animal prints, handkerchief, godet and trumpet hemlines, subtle detailing or all over sequins, one shoulder, crisscross back or cut out silhouettes to cascading ruffles and fun, frilly poof A-line skirts in tulle, Camille La Vie & Group USA's fashion styles are seemingly endless! And the options do not just stop there. Follow Camille La Vie on Twitter at @camillelavie.