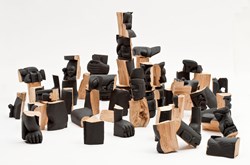 "As an exhibition, RED is a platform for exploring the work of artists who take pride in their cultures and express strength in the knowledge that has been passed down from their ancestors."
Indianapolis, IN (PRWEB) October 30, 2013
Imagine walking into an American Indian museum and seeing a totem pole sawed into pieces and scattered across the floor. That kind of statement-making Native artwork - that clashes with tradition and confronts stereotypes - will be on display beginning Saturday, Nov. 9 2013, when the Eiteljorg Museum of American Indians and Western art opens RED: The Eiteljorg Contemporary Art Fellowship.
RED will feature five Fellows whose paintings, drawings, photography, sculpture and installation art exemplify the highest standards of artistic excellence in the field of contemporary art.
Invited Artist,[ Lawrence Paul Yuxweluptun(Coast Salish/Okanagan) is a Canadian painter known for his large-scale works that encompass political and social issues.
The work of Minneapolis-based mixed media artist, [Julie Buffalohead(Ponca Tribe of Oklahoma) challenges commonly held social conventions in the theater of the backyard, bathroom and ambiguous landscape where animals play dress up, attend tea parties, and go diving in baby pools. Buffalohead's narratives at first look are charming only to find she turns the world upside down.
[Nicholas Galanin (Tlingit/Aleut) is a Sitka, Alaska-based concept-driven artist who uses indigenous technologies and global materials when exploring his unpredictable installation ideas. In his large-scale work, I Think it Goes Like This?, Galanin takes a traditional-looking totem pole and deconstructs it to create a puzzle-like installation.
Shan Goshorn (Eastern Band of Cherokee) uses traditional Cherokee basketry to bring awareness to contemporary Native issues. She builds her baskets out of paper on which she's printed the text of treaties between Cherokee people and the U.S, maps that mark out land once owned by the Cherokee and even lists of athletic teams that use Indian names.
Meryl McMaster (Plains Cree/Blackfoot) is a young artist from Ottawa, Ontario, whose photography shows a maturity in its reinterpretation of the idea of portraiture. She combines exploration of race and social issues into her unique photography using sculpture and installation.
Eiteljorg Fellows receive a $25,000 unrestricted grant, are featured in a catalog and exhibition and the museum purchases works of art for the permanent contemporary collection. More than 100 works from this year's Fellowship class will be on exhibit until Feb. 2, 2014.
"These artists represent unique cultural and personal backgrounds, and their artwork reflects the diversity of Native artists in North America," said Eiteljorg contemporary art curator Jennifer Complo-McNutt. "As an exhibition, RED is a platform for exploring the work of artists who take pride in their cultures and express strength in the knowledge that has been passed down from their ancestors."
To date, the Eiteljorg Fellowship has honored 40 contemporary Native artists, totaling nearly $1,125,000 in cash awards and purchases for the permanent collection.
OPENING WEEKEND SCHEDULE
Friday, Nov. 8
5:30 p.m. – 7:30 p.m.
Celebration
Awards reception honoring 2013 Fellows
Friday, Nov. 8
8 p.m. - Midnight
Contemporary Arts Party!
Event features DJ crew A Tribe Called Red and sketch comedy group the 1491s
Saturday, Nov. 9
10 a.m. - Noon
2013 Fellows Gallery Talks
Tour the special exhibit gallery with the new Fellowship class
Saturday, Nov. 9
1p.m. – 3p.m.
New Native Speak: the 1491s present Social Smallpox
Native American comedy sketch group performs at the Eiteljorg. They are known for bringing Native awareness and humor to a wide, mainstream audience.
About the Eiteljorg Museum
The Eiteljorg Museum seeks to inspire an appreciation and understanding of the art, history and cultures of the American West and the indigenous peoples of North America. The museum is located in Downtown Indianapolis' White River State Park, at 500 West Washington, Indianapolis, IN 46204. For general information about the museum and to learn more about exhibits and events, call (317) 636-WEST (9378) or visit http://www.eiteljorg.org.