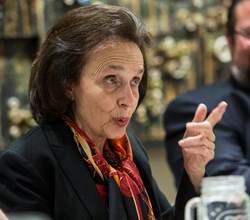 While Ahmadinejad was 'in your face,' Rohani is a breath of fresh air.
Edwardsville, IL (PRWEB) October 25, 2013
Dr. Haleh Esfandiari spoke compellingly Wednesday about her 200-day detainment as an Iranian prisoner and the state of Iran today, during an event held in the Southern Illinois University Edwardsville Morris University Center.
The timely topic examined international relations between the United States and Iran, and the possibility of a less adversarial future between the two nations. She compared Iran's new president, Hussan Rohani, and how his diplomatic approach to foreign relations differed greatly from the adversarial approach taken by his predecessor, former President Mahmoud Ahmadinejad.
"Putting the words Iran, U.S. and progress in the same sentence is not so naïve, perhaps," she said.
Esfandiari talked about a recent interchange between U.S. President Barack Obama and the popular new Iranian president, noting for the first time in nearly 35 years, a short verbal interchange transpired between U.S. and Iranian leaders. It was over the telephone, and it was civil.
During Rohani's visit, he used his social media savvy to show to the world what he referred to as "the true face of Iran." He has been empowered by Iran's Supreme Leader Sayyid Ali Khamenei and is skillfully making the case for reforms to U.N. sanctions, Esfandiari said.
"Rohani was "Tweeting" everything he did; everything he said," Esfandiari said. "He said he borrowed the Iranian ambassador's phone to speak with President Obama.
"Rohani met with many influential people and gained favor with individuals to show how people have been suffering from the last 35 years of sanctions all along. His friends and adversaries were watching every move he made."
These U.N. sanctions have included import and export limitations; the freezing of assets so that the government has limited financial resources; the inability to procure enriched uranium and denied access to pharmaceutical and medical advances to fight diseases in the country, Esfandiari said.
She described Rohani as "straight-forward and cunning, reliable and deceptively charming; a centrist and a pragmatist." "While Ahmadinejad was 'in your face,' Rohani is a breath of fresh air," she added. Since taking the helm as Iran's president, Rohani has added three women to his cabinet and has been outspoken about Iran's domestic conditions in pursuit of resolve.
Esfandiari, director of Middle East programs at the Woodrow Wilson Center for Scholars in Washington D.C. dined with faculty members, students and staff in the University Club. During lunch she spoke on "The United States and Iran: Is Real Progress Possible?"
The event was the latest installment of programs planned by the SIUE Office of International Programs to engage the University community in thinking about global issues.
She is a widely published author, most recently completing the book, My Prison, My Home: One Woman's Story of Captivity in Iran.
Before joining the Wilson Center she taught at Oxford and Princeton, and received numerous grants, including a highly-coveted MacArthur Foundation Fellowship. International luncheons are routinely hosted by the SIUE Office of International Programs. Attendance to the Dutch-treat event is open to the SIUE and the surrounding community. For more information, contact International Programs, dschill(at)siue(dot)edu or rschaef(at)siue(dot)edu, 618-650-3785.
Southern Illinois University Edwardsville provides students with a high quality, affordable education that prepares them for successful careers and lives of purpose. Built on the foundation of a broad-based liberal education, and enhanced by hands-on research and real-world experiences, the academic preparation SIUE students receive equips them to thrive in the global marketplace and make our communities better places to live. Situated on 2,660 acres of beautiful woodland atop the bluffs overlooking the natural beauty of the Mississippi River's rich bottom land and only a short drive from downtown St. Louis, the SIUE campus is home to a diverse student body of nearly 14,000.