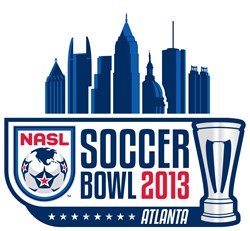 We continue to serve fans across all screens and are thrilled to provide a platform to deliver this quality event to the masses.
Miami, FL (PRWEB) October 26, 2013
NASL Soccer Bowl 2013 – the championship game of the North American Soccer League – will be carried live on ESPN3 in English and ESPN Deportes in Spanish at 7.30pm on Saturday, November 9.
Viewers across the United States who receive their video subscription from an affiliated provider will be able to watch all the action live from Atlanta Silverbacks Park in English on ESPN3.
ESPN's live multi-screen sports network available in more than 85 million households nationwide and accessible online at WatchESPN.com, on smartphones and tablets via the WatchESPN app and streamed on televisions through ESPN on Xbox LIVE to Gold members and Apple TV. The event will also be telecast live in Spanish on ESPN Deportes and available via WatchESPN on multiple platforms.
The NASL Spring Season Championship-winning Atlanta Silverbacks will take on the team that wins the NASL Fall Season, which concludes on November 2. The New York Cosmos can secure the final remaining Soccer Bowl berth with a win this weekend, or the race will go down to the wire the following Saturday with the Tampa Bay Rowdies still in the running.
"We are delighted that a nationwide soccer audience will be able to enjoy every moment of NASL Soccer Bowl in both English and Spanish languages," said NASL Commissioner Bill Peterson. "ESPN3 and ESPN Deportes are firmly established as platforms where soccer fans regularly tune in to watch some of the best matches from around the world and we are excited to partner with them for our 2013 season finale."
"Sports fans have come to know ESPN3 and ESPN Deportes as leading destinations for live soccer events in both English and Spanish language, and NASL Soccer Bowl is no exception," said Todd Myers, Director of Programming & Acquisitions, ESPN. "We continue to serve fans across all screens and are thrilled to provide a platform to deliver this quality event to the masses."