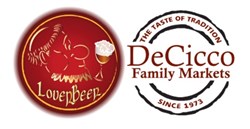 We hope that beer lovers are as excited as we are.
Brewster, NY (PRWEB) October 28, 2013
In a demonstration of its continued efforts to share the highest quality foods and beverages with its customers, DeCicco's graciously welcomes Italian brewery LoverBeer and owner/brewers Valter and Elena for a tap takeover at its Brewster store on Friday, November 8, from 5:00pm until 10:00pm. Hard to find in the US, three LoverBeer varieties will be available on tap and three will be sold in bottles to drink on premises or take home. Sample flights also will be offered.
"We are extremely fortunate to have Valter and Elena at our store to talk about their beers and introduce our patrons to some of the finest beers being made in Italy today," says Andrew Mimran, a DeCicco's spokesman. "We hope that beer lovers are as excited as we are about BeerBrugna, a sour ale brewed with plums that we at DeCicco's never have tasted on draft before."
The LoverBeer story dates back generations to a Trappist monk who is said to have left his monastery to wander the lands, where he found a wife and settle in the French countryside. There, he devoted the rest of his life to doing something that gave him great satisfaction, making beer. Several generations later, his descendants settled in Italy and upheld his passion for producing high quality beer, including the six that will be served at DeCicco's:
Draft: LoverBeer BeerBrugna, LoverBeer D'uvaBeer, LoverBeer Madamin
Bottles: LoverBeer BeerBera, LoverBeer Marche'l Re, LoverBeer Dama Bruna
Store hours on Friday, November 8, are 8:00am – 10:00pm, with the beer event in the brewpub 5:00pm – 10:00 pm. The DeCicco's Brewster store is located at 50 Independent Way, Brewster, NY, 845.278-0836.
About DeCicco's
DeCicco Family Markets was founded in 1973 by John, Joe and Frank DeCicco. It began as a small storefront in the Bronx, offering a choice of high quality food to its growing array of customers. For 40 years, DeCicco Family Markets has a proud history of bringing the largest selection of high quality food available to customers with a friendly, personal touch. It is this simple but unwavering mentality that has enabled the company to expand throughout Putnam, Rockland, Westchester, and Orange Counties. The family operates 10 stores in the following locations: Ardsley, Armonk, Brewster, Cornwall, Cross River, Harrison, Jefferson Valley, New City, Pelham and Scarsdale. The company is also involved in a number of civic and community-related events, regularly working with schools, town organizations, churches and Chamber of Commerce groups.