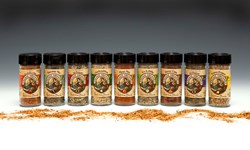 Millennials shop with the "Dirty Dozen" list in their pockets," says Jeremy Fitzpatrick
Kelseyville, CA (PRWEB) October 28, 2013
Sherwood (41) and his cousin, Jeremy Fitzpatrick (36), meet smart savvy Millennials when they present Engage Organics Salt-free Seasoning Blends at northern California specialty food store demos.
"These informed shoppers frequently want to know if we have used organic and gluten-free pasta in our pasta salad recipe, says Jeremy Fitzpatrick.
In fact, the cousins have observed how Millennials stock their grocery carts exclusively with organic versions of the "Dirty Dozen" fruits and vegetables. Only organic apples for them.
The results are showing that the shopping habits of this generation are debunking the way Baby Boomers have shopped for decades. Unlike Boomers, Millennial's are less brand loyal, and are more inclined to shop online or in smaller specialty stores. They much prefer locally grown and manufactured organic products to feed their growing families.
Sherwood and Fitzpatrick thrive on the conversations they share with informed Millennials. They respect the questions and love talking about how to prepare healthy versions of old family favorites.
Shoppers are equally happy to hear that Engage Organics Salt-free Seasonings is 100% Certified USDA Organic and Gluten-free tested. The local family business has recreated the secret recipes it pioneered as the first all-natural salt-free seasoning blends under the Parsley Patch label.
Now Sherwood and Fitzpatrick are carrying on the entrepreneurial spirit of their families for a whole new generation of health-conscious consumers.
Engage Organics Salt-free Seasoning Blends come in 9 varieties. Look for the Original All-Purpose with and without sesame seeds. Of course, the famous Garlicsaltless Blend makes the best garlic bread on the planet; while Tuscany-Mix puts zip into anything pasta. The Mexi-Mix is a sure bet for replacing those high sodium taco seasoning packets with real flavor instead of salt. And if you want a Starbuck's treat in your cup of java at home, try Sweet-Cinn and gain the cholesterol lowering benefits of cinnamon in a stir. Engage Organics Lemon Pepper is completely void of sugar and salt, which are the main ingredients in most Lemon Peppers. Engage Organics Lemon Pepper has pucker power and is flying off the shelves. Don't miss It's-A-Dilly, a cult favorite for salmon and beyond. And lastly, the new Go-Grill-A-Rub turns barbecue into bliss.
These salt-free seasoning recipes are the identical recipes that made each brand famous under the Parsley Patch label.
If you would like more information about Engage Organics Salt-free Seasoning Blends, go to http://www.engageorganics.com
# # #
Media Contact: Pat Gage
Engage Organics Salt-free Seasoning Blends