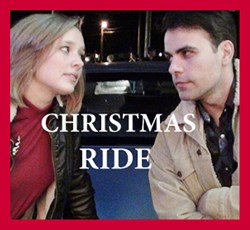 Road Trip to Remember
Memphis, TN (PRWEB) October 26, 2013
The producer, Karen Francis of Art Promotions, a Memphian, encourages everyone to come and see this independent film production created with the cooperation of Yarbrough Media Productions. More than sixty actors from Memphis, Bartlett, Covington and nearby areas of TN are in the film, as well as H T Altman from Minnesota. The female lead is played by Brittany Ham, and her children April and Josh are played by Reagan Britt Mullins and Russell Walden, respectively.
Christmas Ride includes new songs and a variety of musical genres by ten musicians including Danny Jones, Bobby O'Neal, Kari Fleskes, Bryan Hayes and Terry Bell of Nashville as well as David Francis and Michael Boustead.
Christmas Ride is a new heartwarming, dramatic family feature film about an artist with kids and a mysterious neighbor in the pressure cooker of a holiday road trip who learn the importance of forgiveness. After hearing a supernatural warning, this foursome drives urgently through the Southeast U.S. near Christmastime in 1991. They confront dangers, relive haunting past tragedies and seek God's forgiveness when a shattering truth ultimately emerges. Road anxiety and a veteran's Post Traumatic Stress Disorder collide, punctuating life-threatening difficulties with tears and smiles. The script earned a semi-finalist award from Charleston International Film Festival, 2013.
This family film hopes to attract the attention of the film industry and find worldwide distribution, possibly acquisition, in the near future and will be represented in California during the American Film Market in November. Video trailers are online on YouTube.
The theater seats 400 and tickets may be purchased in the lobby of the theater located near the Carousel entrance at the Wolfchase Galleria mall for $6.00 night of the event. Some of the actors will be present.