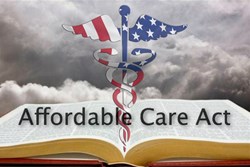 Living & Leading It Forward
Greensboro, NC (PRWEB) October 29, 2013
There seems to be lots of questions about how to comply with the Affordable Care Act a.k.a. "Obamacare" without compromising one's faith.
Especially from those on the front lines - Christian CEOs, presidents and business owners. A panel of nationally known experts in the areas of law, HR, healthcare and public policy will tackle many of the economic and eternal concerns felt by Christian business leaders.
The four member panel includes a former 2012 presidential candidate and Lori Windham, Senior Counsel at the Becket Fund. The Becket Fund represents Hobby Lobby in its legal fight against objectionable parts of the Affordable Care Act.
The conference is hosted by The C12 Group. America's leading equipper of Christian CEOs and business owners.
The healthcare session is just one in a wide variety of timely and relevant, high-impact business and ministry 'best practices' topics targeted for Christian CEOs and delivered by peer CEOs.
The Keynote speaker is Alan Barnhart, CEO of Barnhart Crane & Rigging.
Alan will share his inspiring story of "LIVING & LEADING IT FORWARD" and how his faith led to his company's financial success and many spiritual salvations.
Here's a sample of what's on the agenda:
-Getting a Midsized Company On-Track with Christ-centered Ministry
-Chaplaincy Testimonies: Blessing Our People While Enhancing Operations
-Finishing Strong with Planned Leadership Succession
-Trust-Based Selling & Marketing
-Biblically Responsible Stewardship and Investing
-Christian ('Holy') Yoga (physical participation w/Biblical meditation)
Entertainment will be provided by FFH (Far From Home). This dynamic Christian couple will share their unique musical style and talents as a featured guest of our Keynote and Fellowship Dinner Banquets.
The C12 Group is America's leading provider of executive roundtables for Christian CEOs and business owners.
It was founded in 1992 Buck Jacobs; dedicated Christian, author and CEO.
His vision is to see an active global Christian CEO/Owner network, with C12 groups in very metro area around the globe.
Mission Statement: "To change the world by bringing forth the Kingdom of God in the marketplace through the companies and lives of those He calls to run businesses for Him."