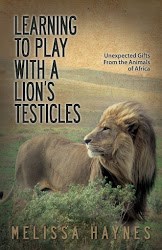 (PRWEB) October 28, 2013
Learning to Play with a Lion's Testicles, a new book by debut author Melissa Haynes, rose to prominence overnight after being featured on Late Night with Jimmy Fallon for having the worst title. Fallon chose it as the Number One book on his latest "Do Not Read List."
"Canadian author Alice Munro won this year's Nobel Prize for Literature and Canadian-born Eleanor Catton won the Man Booker Prize," notes Haynes. "As for me, Fallon just pushed sales of my book through the roof, so I feel like I won the lottery."
The title of the book is a South African expression meaning "to take chances." The author did just that with the experiences that led to the writing of this book.

She slept alone in a tent camp surrounded by the Big Five (lion, elephant, buffalo, leopard, and rhinoceros) with only a thin wire fence as protection.
After four years, she was able to come to terms with her own mother's death when confronted with the death of a hartebeest on the game reserve.
She overcame a lifelong phobia of Great White sharks when she met Jaws face to face in a cage dive. She is now a shark conservationist.
Haynes adds, "I'm extremely grateful to Jimmy Fallon for making my book Number One, which now carries a double meaning of 'worst and best.'"
The author's video, "Making Lemonade out of Jimmy Fallon's Lemons," has gone viral and can be viewed at YouTube and at the author's website.
Title: Learning to Play with a Lion's Testicles
Author: Melissa Haynes
Paperback: 210 pages
Publisher: Behler Publications
Language: English
ISBN: 978-1933011682-5
Price: $15.95