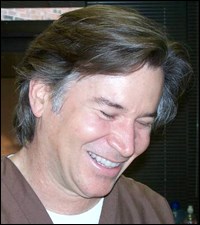 Austin, TX (PRWEB) October 27, 2013
Dr. David A. Baker at Westlake Family Dental Care now offers Austin, TX patients needing gum disease treatment the Laser Assisted New Attachment Procedure (LANAP). LANAP is a dramatic new gum surgery alternative that treats gum infections faster and with less impact or discomfort to patients than traditional surgical methods.
With the use of the PerioLase® MVP-7™ laser, Dr. Baker can vaporize infected gum tissue without disturbing any of the neighboring healthy tissue. Traditional gum disease treatment in Austin, TX almost always results in some healthy gum tissue being cut away along with the diseased portions. Sufficient healthy gum is vital for the proper support for teeth and, without enough gum present, patients can be at risk for tooth loss. Despite the importance of gum health, many people are hesitant to undergo gum disease treatment. LANAP now offers a gum surgery alternative that makes the process simpler and easier and, therefore, more accessible to a greater number of patients.
In addition to tooth loss, the presence of persistent gum disease is linked to an increased risk for other medical conditions. These include low birth weight or premature birth, stroke, diabetes, heart disease and more. Periodontitis is a bacterial infection in the gums and an infection anywhere in the body poses risks to overall health and wellness.
Dr. Baker is proud to be one of the leading dentists in the United States offering laser gum surgery to periodontal patients.
Austin, TX residents interested in learning about LANAP gum disease treatment should contact Westlake Family Dental Care to see how they may be able to benefit from this new option.
About The Doctor
Westlake Family Dental Care is a general practice offering personalized dental care for patients in Austin, TX since 1997. Dr. Baker received his dental degree from the University of Texas Health Science Center San Antonio Dental School and scored in the top two percent of the nation in Endodontics and Periodontics. He is part of one percent of dental professionals providing the LANAP FDA cleared laser procedure for gum disease and periodontal treatment. Dr. Baker stays abreast of the dental techniques and technology by attending at least 30 hours of continuing education each year. In addition to LANAP, Dr. Baker provides services such as fixed lower dentures, mini-implants, and TMJ. To learn more about Westlake Dental Care and their dental services, visit their website at http://www.davidabaker.net and call (512) 782-8422.