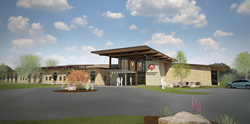 Houston, Texas (PRWEB) October 26, 2013
Houston trial lawyers Steve and Amber Mostyn hosted the "Celebration of Champions" fundraiser last night to benefit Special Olympics Texas (SOTX). In total, more than $250,000 was pledged to the athletic organization.
The event, organized by the Mostyn Moreno Foundation, was held at the home of Steve and Amber Mostyn. Funds from the event are earmarked for the completion of the Christi Stanley Building in Austin, the future headquarters of SOTX. The new building will be named after Amber Mostyn's mother, Christi Stanley, a longtime advocate for people with disabilities.
"We're delighted to continue our support of this great organization," said Amber Mostyn. "Organized athletics are important for all kids. Steve and I are honored to be the host of this event in celebration of the accomplishments of these amazing athletes."
In addition to Thursday's fundraiser, the Mostyns have donated over $2 million to SOTX for the completion of their new headquarters. The Christi Stanley building will host training seminars for coaches and athletes as well as house the organization's administrative offices.
"Support of the Special Olympics allows kids and adults to have a chance to engage in activities that may not be part of their normal life", said Steve Mostyn." The organization provides priceless support beyond the field and courts these athletes participate in."
Guests to the fundraiser included former Olympic athletes and prominent members of the Houston community.
Fill out a pledge form at http://www.mostynmoreno.org/champions/pledge.pdf to help Special Olympics Texas. Follow the instructions at the bottom to send your donation.
Please visit http://www.mostynmoreno.org, for more information about the Mostyn Moreno Foundation.
To learn more about how you can help Special Olympics Texas, go to http://www.sotx.org or call 1-800-876-5646.
About the Mostyn Moreno Foundation
Founded in 2006 by Steve and Amber Mostyn, the Mostyn Moreno Foundation supports and operates programs that encourage and develop the abilities of special needs children. The foundation concentrates its activity along the Texas Gulf Coast with special attention to the Houston area. Among the Foundation's initiatives are the "Community of Opportunities" program, which providing families with special needs child assistance and the "Christmas Lights", an experiential program for life skills development. The Foundation also supports "Spa Day", an effort to improve the self-esteem of high school girls, and "Rodeo Day", in support of Ritch's Little Raiders.
About Special Olympics Texas
Special Olympics Texas (SOTX) is a privately funded non-profit organization that changes lives through the power of sport by encouraging and empowering people with intellectual disabilities, promoting acceptance for all, and fostering communities of understanding and respect. SOTX provides continuing opportunities for more than 44,500 children and adults with intellectual disabilities throughout the Lone Star State to realize their potential, develop physical fitness, demonstrate courage and experience joy and friendship.