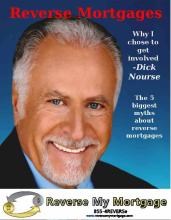 Salt Lake CIty, Utah (PRWEB) October 25, 2013
RMM has continuously prided themselves on providing resources for their customers. They offer helpful consultations, no cost guides and an online calculator that depicts the potential extra income that could result from a reverse mortgage in Utah. The calculator was long ago introduced as a simple means to see a general amount of potential equity income. However, with the introduction of the new calculator, the company is providing seniors and their families with more accurate numbers and a better idea of whether or not a reverse mortgage would be the right decision for them.
The new calculator requires the same amount of information as the previous model; users enter in the amount that their home is worth, some personal information and what state they live in. Previously, the number range was rather generalized, giving a small amount of insight as to how much income would be available for the applicant. With the new algorithm, the calculator is now narrowing down the numbers and giving a much more accurate range, allowing seniors to make more accurate and informed decisions about their financing.
It also provides a better understanding of what the HECM loans in Salt Lake City can ultimately bring to each individual situation. For some seniors, a reverse mortgage turns out to be a great option. For others, depending on their equity, the amount of income wouldn't be worth the application. Providing this calculator, RMM is demonstrating to seniors where they fall in the range of payments. Visually seeing the number on the page might push some seniors into taking the leap and making the decision. A reverse mortgage allows seniors to use the equity in their homes as supplemental retirement income. They cannot be displaced from their homes as long as they follow the mortgage agreement and they can still pass their home onto their children.
RMM wants to ensure that a reverse mortgage in Utah is the best choice for seniors and their families before moving onto the next step of the process. With their informational guides and helpful resources, the company is impacting the decision making process exponentially. For more information about their services, or to use the qualifying calculator, visit their website at http://www.reversemortgagecalculator.com.