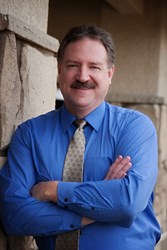 San Luis Obispo, CA (PRWEB) October 26, 2013
Michael Colleran, DDS, now provides an additional solution for replacing multiple missing teeth. With dentures supported by dental implants. Implant-supported dentures are recommended for people missing several teeth in a row or missing all of the teeth in the jaw. The patient must also have enough healthy bone in the jaw to place implants (typically at least three).
There are two types of implant-supported dentures, ball-retained and bar-retained. A bar retained fixture requires that a thin metal bar is attached to the implant. The bar follows the curve of the patient's jaw. The denture has clips attached to it that clip onto the bar. With a ball-retained fixture, the denture attached to the dental implants using a ball-and-socket design. Usually, the denture includes sockets that fit onto ball-shaped fixtures on the implants. Implant-supported dentures can be partial or full dentures. They can be used on the upper jaw, lower jaw, or both. Even when the bone is very thin an implant retained denture is possible with mini-implants. Each individual's case varies so Dr. Colleran will consult with each patient to determine which design and which implant is more appropriate for him or her.
Of course, each of these designs requires dental implant placement. Dr. Colleran may place several implants where the patient's jaw bone is healthy, often towards the front of the jaw. Because tooth loss leads to very rapid deterioration of the jaw bone, jaw bone density will be a concern for most patients with multiple missing teeth. After the placement sites have been carefully selected, Dr. Colleran will place the titanium bases of each implant into the jaw. Sometimes a healing period of several months will be required so that the implants can properly fuse or integrate with the bone in a process called osseointegration. At another visit the heads of the implants are exposed and healing caps placed. After a very short healing period, dental -lab fabricated parts replace the healing caps. A denture made from a mold of the patient's jaw will ultimately serve as a permanent denture that will be affixed to the implants.
Individuals who are interested in implant-supported dentures can visit http://www.slotownsmiles.com for more information.
About The Doctor
Michael Colleran is a general dentist offering personalized dental care for San Luis Obispo, CA patients since 2002. Dr. Colleran attended Cal Poly, San Luis Obispo for his undergraduate studies and University of the Pacific, School of Dentistry in San Francisco for his professional training. He is part of one percent of dental professionals providing the most recent FDA cleared laser procedure for gum disease treatment. Dr. Colleran is a nationally renowned dental author and lecturer and an expert on laser dentistry. To learn more about Michael Colleran, DDS and his dental services visit his website at http://www.slotownsmiles.com and call (805) 543-0814.