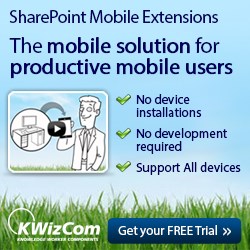 Toronto, ON (PRWEB) October 29, 2013
KWizCom , the leading provider of innovative software components designed to expand Microsoft SharePoint, introduces SharePoint Mobile Extensions. This breakthrough product dramatically enhances end-user productivity by providing a custom-tailored, task-oriented & focused mobile solution, particularly designed for on-the-go SharePoint users.
"KWizCom has approached the SharePoint mobile challenge from the perspective of business users, who need to stay productive in a way which is far beyond just connecting to the company portal and viewing page and list content," says Nimrod Geva, Product Group Manager of KWizCom Corporation. "As more and more users are using tablets and smartphones, just letting them connect to lists and libraries in SharePoint is simply not enough! Mobile users have completely different needs and constraints while they are on the road, and a portal UI which is simply compressed to the smartphone's UI is really not what they need."
KWizCom decided to take mobile access a step further and provide their customers with the ability to cut away unneeded or unwanted information when using Mobile Extensions by enabling them to customize and access only the information that is important. Such custom-tailored mobile solutions include the exact pages, menus, buttons and fields that business users need.
They haven't reinvented the wheel, but KWizCom has definitely set itself apart from its competitors by the customization features allowed in their SharePoint Mobile Extensions. In just a few minutes a custom-tailored, focused mobile solution can be produced that answers the mobile users' specific needs. Customers will appreciate and benefit from the task-oriented, focused mobile interface that enables them to collaborate much easier and faster.
Key Benefits of KWizCom SharePoint Mobile Extensions include:

Ability to create custom-tailored mobile solutions that enable end users to work much faster
True BYOD support – supports any mobile device
Low maintenance costs – No development skills required, No device installation required
It's also great to see the company has setup a video to demonstrate how productive the SharePoint Mobile experience can be and includes instructional information that really gives the viewer a feel for the usefulness of their product and gets you thinking on the specific benefits it could provide for your own business. Two thumbs up for KWizCom on this one.
For more details on SharePoint Mobile Extensions and all other KWizCom products, please visit: http://www.kwizcom.com.
Follow KWizCom on Twitter http://www.twitter.com/KWizCom.
Become a fan of KWizCom on Facebook: https://www.facebook.com/KWizCom.
Contact a KWizCom Account Specialist at +1-905-370-0333/+1-855-KWIZCOM or info(at)kwizcom(dot)com.
About KWizCom Corporation
KWizCom has provided innovative solutions and services to make SharePoint even better for over 5,000 companies worldwide. KWizCom's solutions and services expand Microsoft SharePoint out-of-the-box capabilities, streamline workflow, maximize efficiency and enhance over-all productivity for hundreds of thousands of users. KWizCom, a Gold Certified Microsoft Partner, is headquartered in Toronto, Canada. Please visit http://www.kwizcom.com to find out more about KWizCom's clients, people, partners and solutions.