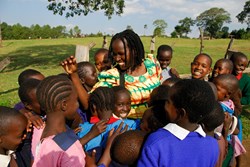 Washington, DC (PRWEB) October 28, 2013
Vital Voices Global Partnership today announced its full network wide global support and social media campaign to one of the women its worked with – Kakenya Ntaiya - nominated as a CNN Hero of the Year Top 10 finalist for 2013. In making the announcement, Vital Voices President and CEO Alyse Nelson said, "Education should be a right for everyone. But for millions of women it isn't, but we're one step closer to that changing thanks to Kakenya's incredible work and vision. This CNN Hero nomination represents her strength to triumph over adversity, while putting hope and schooling in the lives of the next generation of young girls in Kenya." The Vital Voices Global Leadership Network includes more than 14,000 leaders representing 144 countries who have trained and mentored 500,000 additional women and girls in their communities.
Born into a small conservative Masai Village, life for Kakenya Ntaiya was supposed to follow the traditional path. Engaged at age 5, she was to be circumcised by the time she was a teenager, an event that would mark the end of her education and the beginning of her preparations for marriage. But Kakenya had a different plan. At the age of 12 prior to her circumcision, she negotiated with her father: she would be circumcised only if she could also finish high school. He agreed. Then she negotiated with the village elders to do what no girl had ever done: leave her Maasai village of Enoosaen in south Kenya to go to college in the United States. She promised that she would use her education to benefit Enoosaen. The entire village collected money to pay for her journey. And her dream came true.
Today, with 160 girls enrolled at the school she founded, Dr. Kakenya Ntaiya is a leader for girls' empowerment and education in Kenya. For her courage and vision, she was named a CNN Hero of the Year Top 10 finalist, but she needs your vote to win. Cast your vote once a day, each day through Nov. 17: http://ow.ly/pXSL4. Share with your family and friends and use hashtag #girlsareheroes to continue the conversation and to let the world know that girls can be heroes, too.
Online voting ends November 17 and the winner is named December 1 in New York. The award could total $300,000, and Kakenya has said she would invest it in a new crisis shelter, a new cafeteria, and scholarships for the girl graduates to attend high school across Kenya. We are part of a coordinated effort among her friends, supporters and partners to spread the word about voting – people can vote once a day, each day, until the 17th of November.
Kakenya's nomination comes, as globally girls are struggling with access to education and to live free from the threats of child marriage and human trafficking. A staggering 14 million girls under the age of 18 will be married this year; that's an average of 38,000 child brides per day, or 13 every 30 seconds. In the northeastern provinces of Kenya, the statistics are even bleaker: less than 20% of girls are ever enrolled in schools, and many never complete their education.
Added Alyse Nelson: "Every person has a right to an education. And every vote for Kakenya matters. It matters for the child who can only dream of being in school, and for the parent who wants to see them succeed. Please help us have Kakenya Ntaiya be voted CNN Hero of the year. She's certainly a hero for us."
About Vital Voices Global Partnership:
Vital Voices Global Partnership is a leading non-governmental organization that identifies, invests in and brings visibility to extraordinary women around the world by unleashing their leadership potential to transform lives and accelerate peace and prosperity in their communities. Founded by former U.S. Secretary of State Hillary Clinton in 1997, the organization trains and mentors women leaders as agents of transformative change in economic development, human rights and political participation. The Vital Voices Global Leadership Network includes more than 14,000 leaders representing 144 countries who in turn have trained and mentored 500,000 additional women and girls in their communities. Visit http://www.vitalvoices.org to learn more.
About Kakenya Ntaiya:
Kakenya received a scholarship to Randolph-Macon Women's College in Virginia. She went on to the University of Pittsburgh, where she received her Doctorate in Education in 2011. While completing her studies in the U.S., she married and had two children.
As an undergraduate, she became the first youth advisor to the United Nations Population Fund. In that capacity, she traveled around the world as a passionate advocate for girls' education, which she sees as a crucial tool for fighting the practices of female genital mutilation and child marriage.
Kakenya was honored with a Vital Voices Global Leadership award in 2008 and as a National Geographic Emerging Explorer in 2010. She was named one of Newsweek's "150 Women Who Shake the World" in 2011 and counted among the Women Deliver 100: The Most Inspiring People Delivering for Girls and Women. She was a featured speaker at TEDx Midatlantic Conference in 2012 and honored as a CNN Hero in 2013. Her story has been the subject of a Washington Post series, a BBC documentary, and many magazine articles. Visit http://www.kakenyasdream.org to learn more.
Media interested in interviewing Kakenya or the Vital Voices Global Partnership should contact Margaux Bergen at margauxbergen(at)vitalvoices(dot)org or 202 333 1928.