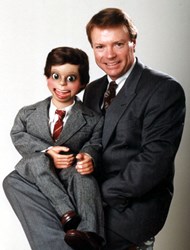 "Technically, I was born the year that Vaudeville died and I have spent most of my life trying to bring it back to life." Magic Castle Co-Founder Milt Larsen
(PRWEB) October 28, 2013
What: The 56th year of "It's Magic!" with Tony Award winner Jay Johnson as Host
When: Saturday, November 30th at 7:00 pm
Where: Thousand Oaks Civic Arts Center - 2100 E. Thousand Oaks Blvd._ Thousand Oaks, CA 91362
Tickets/Info: Civic Arts Plaza Box Office: 805-449- ARTS (2787) or Visit itsmagicshow.com
Jay is widely regarded as one of the very best ventriloquists working today with career highlights including a starring role on the classic TV series "Soap" as well as the 2008 Tony Award for his one man show "The Two and Only," which was featured in theaters on Broadway and in London. 
Jay Johnson (TONY Awards & The Two and Only) - http://www.youtube.com/watch?v=unwe840I2gs
"Technically, I was born the year that Vaudeville died and I have spent most of my life trying to bring it back to life," says Milt Larsen (co-founder of the Magic Castle - now celebrating its 50th year) adding, "I am encouraged to see such a strong revival of interest in the art of illusion, both nationwide and around the world. It is the one Vaudevillian staple that never went away. The pulse may have been faint at times, but has been steadily growing over recent years and I have faith that it is well on its way to making a full recovery."
Milt Larsen, along with Terry Hill, is currently executive producing "It's Magic!" (itsmagicshow.com) now in its 56th year. A tradition for magic buffs and slight of hand fans, the show has been seen regularly throughout the USA including Hawaii, Washington, California, Arizona and Connecticut. The upcoming production will be appearing at the Thousand Oaks Civic Arts Center on Saturday, November 30th at 7:00 pm and will be hosted by Tony Awarad winner Jay Johnson (http://monkeyjoke.com/pictures).
In the mid 70's Jay moved to Los Angeles to pursue his ideas for television. To date he has done over thirty national commercials, hosted three comedy specials, produced and performed in two network television specials, two HBO specials, hundreds of guest appearances on variety shows and starred in four television series ("Soap" was in production for 4 years and still runs in syndication all over the world). However, nothing he has done on television can compare to the thrill of seeing Jay perform live as thousands of comedy club audiences will tell you. His particular talents are best suited for live and spontaneous interchanges. His quick wit and unbelievable technique are pure magic when witnessed first hand. The list of entertainers Jay has shared the stage with in Las Vegas, Atlantic City, Tahoe and in theater venues around the United States and other countries reads like a who's who of entertainment.
The recent off shore production of the show entitled "The Magic Castle at Sea," has been highlighted by USA Today as a winner in "The Best of Cruise Ship Entertainment." Crystal's new Magic Castle at Sea has been so popular that Crystal has expanded the number of performances per sailing.
In light of the success of film trilogies such as "Harry Potter," "Lord of the Rings," and now the Percy Jackson movies, the demand for all things magical including paraphernalia has been flooding the market. However, the story of magic predates film, television and even the vaudeville stage by centuries. In fact, the artistry of illusion is as old as recorded history itself and its roots can be found as far back as the Egyptian Pharaohs. There have been written transcripts found on papyrus and even in the Bible, reporting the presence of magicians performing in the streets and marketplaces of ancient Greece and Rome and even as ancient art forms that can be traced back to the Chinese Han Dynasty (206 BC √ 24 AD). From China and their early mastery of the magic mirror to India's famous rope tricks, as well as the courtrooms of the Kings and Queens of Europe, magic has fascinated the public. Some say that magic is the most universal of the performing arts, as it translates so easily from one culture to another.
In addition, Mr. Larsen and Magic Castles Inc., have recently announced a finalized Global Brand licensing agreement with Creative Artists Agency (CAA), to create opportunities for the Magic Castle across all areas including television, film, live events, video games, digital media, and merchandising, among others. Also in the works, a feature film based on The Magic Castle is currently in development from veteran movie producer, Ted Field, and his company, Radar Pictures, under the direction of internationally known director, McG.
Historically speaking, the Victorian Mansion (now known as the Castle) was finished in Jan of 1909, 100 years ago. The Castle itself was opened 50 years ago in January 1963, and continues to pack crowds into their multiple theatres. Among its extensive list of celebrity members and magicians that consider the club a favorite escape has and does included: Johnny Carson, Jimmy Stewart, Jason Alexander, Johnny Depp, and thats just the J's. Of course, the biggest names in theatrical magic have also either appeared at the Castle and/or in the "It's Magic" productions over the years including: Penn & Teller, Lance Burton, Sigfried and Roy, Doug Henning, David Cooperfield and many more.