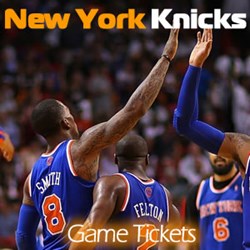 Custom software at KnicksGameTickets.com allows fans to find games with the cheapest seats based on the level where they want to sit such as lower bowl at MSG or floor tickets. For regular season Knick games and playoffs.
New York, NY (PRWEB) October 29, 2013
The recently introduced New York Knicks Game Tickets website provides fans with the ability to buy Knicks tickets sold out at the box office similar to other outlets such as StubHub. But KnicksGameTickets.com sets itself apart from other such sites in a few ways. Of primary importance to many NBA fans, very often KnicksGameTickets.com in association with Tickets-Cheapest.com offers prices cheaper than StubHub. In instances where the same exact seats are offered by both sites the new Knicks Game Tickets site should win the best price contest almost every time.
Custom sorting and the ability to discover the cheapest NY Knicks tickets provides the next way in which KnicksGameTicklets.com stands above other resale sites online. Imagine a goal of attending a Knicks game in Madison Square Garden, and sitting in pretty good seats, but not being especially concerned about the Knicks opponent for the game you will buy tickets for. The new Knicks Game Tickets site will display all the home Knicks games at MSG displaying the cheapest seats available throughout Madison Square Garden, only in the lower bowl - 100 sections or highlight the cheapest floor seats. Fans can than go on to re-sort the games in order of the cheapest recent seat price for the area where they want a ticket. For example, viewers may see the cheapest Knicks tickets for every game during the season for all available seats, just good seats in the lower bowl or only floor tickets. When the cheapest Knicks ticket involves a date or game that does not fit, just look to the next best entry and find the game to match a personal schedule or special NBA team. The system will include both regular season and playoff tickets.
New York Knicks games for the 2013-2014 season strive to bring a championship banner home to Madison Square Garden for the first time since 1973. Knicks tickets show strong sales so far fueled by optimism that the Knicks could win it all this year. Coming off a great record from last year fans hold valid reasons for their high hopes. Led by scoring champion Carmelo Anthony the Knicks hope for all star Amar'e Stoudemire to make a healthy return. Newcomers playing in their first Knicks game as the season opens will include former Lakers stand out Metta World Peace, formerly known as Ron Artest, and Andrea Bargnani who comes to New York with great promise from Toronto and rookie Tim Hardaway Jr. joining the Knicks after the 2013 NBA draft.
In addition to Knicks games Tickets-Cheapest.com sells tickets for all events at Madison Square Garden including the New York Jingle Ball concert with Miley Cyrus, 4 Phish concerts near New Year's eve, the Rod Stewart New York City show, the three Eagles Madison Square Garden concerts, the Elton John New York City show at MSG, Knicks game tickets and Rangers seats. Theater lovers can buy tickets for Broadway shows in New York City either at Tickets-Cheapest.com or their sister site Ticket-Broadway.com including the popular Radio City Christmas Spectacular tickets. With the NFL season underway fans may purchase New York Jets or New York Giants tickets too. For Knicks fans coming from a bit further away, call about setting up a New York City weekend hotel package including a luxury hotel, premium Rangers or Knicks tickets and dinner.
Enojy a Knicks game, any event at Madison Square Garden or even any sporting event, concert or theater production in the New York City area, save money over other resale sites and discover better ways to find the tickets you want with options like KnicksGameTickets.com and Tickets-Cheapest.com from Financial Firebird Corporation.
About Financial Firebird, Knicks Game Tickets and Tickets Cheapest
The site to buy cheap tickets online, like NY Knicks tickets, and its sister sites, including the site to purchase a NY show ticket like Motown The Musical On Broadway, all geared for the consumers looking for low prices, are affiliated with the Financial Firebird Corporation Travel Group, and stand among the top sites sought by travelers and people who enjoy concerts, pro sports and theater performances. Financial Firebird Corporation, established in 2000 and a proud BBB member, provides unbiased consumer information particularly involving personal unsecured debt or mortgages, software and marketing services. These sites for consumers to buy tickets online operate in the resale market and maintain no relationship with the venues or performers. The resale ticket market allows consumers access to popular events once the box office has sold out or to buy premium seats when the venue no longer offers any inventory. Within the group of these secondary market ticket services, the Financial Firebird owned ticket sites offer lower prices than competitors. Find the sites at KnicksGameTickets.com and Tickets-Cheapest.com.