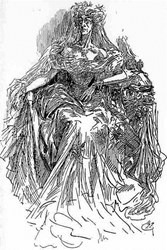 (PRWEB) October 28, 2013
All Hallow's Eve is the spookiest night,
It's filled with the scariest feelings of fright.
And what's it all for with no stories to tell?
Shmoop's got the goods since they know books so well.
For students who're looking for candy to eat:
Shmoop's Top Ten Places to Not Trick-or-Treat.
1. Miss Havisham's House, Great Expectations. More like Great Exspooktations. Nineteenth-century England is dreary enough as is. Add a crazy lady with coping issues to the mix, and the result is a place meant to be skipped during trick-or-treating.
2. Coraline's House, Coraline. A world where people have buttons for eyes? Creepy point proven. But what makes Coraline's house in the "other" world so especially sinister is that it seems nice at first glance. Never trust appearances on Halloween.
3. The Bottomless Pit, The Bible. The Bottomless Pit of the Bible's final book features smoke, locusts, and an evil angel. In case that's not enough, the Devil joins the party, too. The Pit is the pits every day of the year, but Halloween is sure to bring out its true stench.
4. The Inferno, Dante's Inferno. Medieval punishments were the best (read: worst), and Dante sure knew how to dole 'em out. Unfortunately, those souls experiencing eternal pain aren't just a cheap Haunted House decoration. Probably best to skip this one in favor of one of Dante's less horrifying places, such as Paradiso.
5. One of Coleridge's Drug Trips, Kubla Khan. Shmoop just says no to drugs—but not to trippy literature. Coleridge's adventures in la-la land are the stuff of ultimate ghost stories.
6. The Post-Thneed Truffula Forest, The Lorax. Dr. Seuss's worlds are usually filled with color and delight, but the decimated Truffula forest is as eerie as they come. The ghosts of trees past are not ones to mess with.
7. A River with Marlow, Heart of Darkness. Floating down a river with Marlow on Halloween is like riding a ship straight into post-colonial hell. The horror! The horror!
8. The Veldt, The Veldt. Dystopian literature presents a world in which every day is spooky. Bradbury's virtual reality kill-fest definitely makes Shmoop thankful for the other 364 days of normal.
9. Room 101, 1984. For Winston, it's rats. For Shmoop, it's bad grammar. Room 101 contains everyone's biggest fear, so it's best not to test the waters on the scariest day of the year. Oh, the split infinitives!
10. Everywhere, A Clockwork Orange. Even the the bravest faux Batman will quiver at the cover of Anthony Burgess's classic. With blood, violence, brain zapping, and forcing-you-to-watch-violence-until-you-break torture, this book is definitely chill-inducing and boot-quivering.
Stay away from these places on All Hallow's Eve.
Unless you find them within a book's leaves.
What other lit locales should you dare not explore?
Check out our blog right here to tell us more.
About Shmoop
Shmoop is a digital publisher of curriculum and test prep that makes fun, rigorous learning and teaching materials. Shmoop content is written by master teachers and Ph.D. students from Stanford, Harvard, UC Berkeley, and other top universities. Shmoop Learning Guides, Test Prep, and Teacher's Editions balance a teen-friendly, approachable style with academically rigorous materials to help teachers help students understand how subjects relate to their daily lives. Shmoop sees over 7 million unique visitors a month on its site, and offers more than 7,000 titles across the Web, iPhone, Android devices, iPad, Kindle, Nook, and Sony Reader. The company has been honored twice by the Webby Awards, named "Best in Tech" for 2010 and 2011 by Scholastic Administrator, and awarded with two Annual Education Software Review Awards (EDDIES) in 2013. Launched in 2008, Shmoop is headquartered in a labradoodle-patrolled office in Mountain View, California.
*SAT and AP are registered trademarks of the College Board, which was not involved in the production of and does not endorse this product.
*ACT is a federally registered trademark of ACT, Inc. Shmoop University is not affiliated with or endorsed by ACT, Inc.