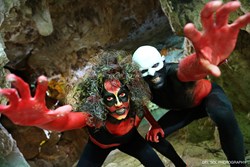 The Xplor Bravest Race
Riviera Maya, Quintana Roo, México (PRWEB) October 29, 2013
The most successful adventure park in Cancun and the Riviera Maya will hold the Xplor Bravest Race, an obstacle and persecution race across the jungle of Quintana Roo, with a 3.1 mile journey, created for those brave ones who want to conquer their fears and overcome a personal challenge
in a different way.
On Sunday, January 26th, 2014, Xplor Park -located 37 miles away from Cancun- will welcome 3 thousand competitors 18 years and older, who will test their own performance, translated into speed, courage, strength and strategy.
In this challenge the competitors are not seeking to obtain the first place, but to complete the race successfully without losing the flags which represent "their lives" as participants. During the race, the "Fear Persecutors" are characters who will do whatever is in their hands to make the competitors fail in their effort of moving forward and finishing this test successfully.
This is the ideal race for CrossFit lovers, in other words, those who enjoy developing the ten most recognized physical capacities by the specialists in sports training: cardio and breathing resistance, muscle resistance, strength, flexibility, power, speed, coordination, agility, balance and accuracy.
During this trial, the participants will face natural obstacles, such as the natural geography of the jungle, where caverns, water and vegetation play a crucial role, as well as some others created so that participants get the chance to face and overcome their own fears.
On the same day, there will be a Bravest Party in which the competitors, their families and friends will be able to celebrate the ending of this trial. Access is not allowed with meals, beverages or pets.
Those interested may find detailed information at the event's official website: XplorPark
For further information:
Iliana Rodríguez
Chief PR and Communications Officer
Cel: 044 (998) 8 45 56 44
sfernandez(at)experienciasxcaret(dot)com(dot)mx