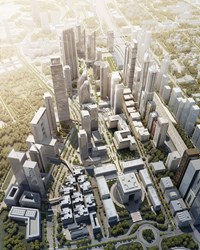 A lot of preparation and planning went in to this uniquely positioned district in Dubai in order to fulfill the vision expressed by DIFC Properties CEO, Brett Schafer.
DUBAI, United Arab Emirates (PRWEB) October 28, 2013
5+design, the architectural design firm headquartered in Hollywood, CA, has re-envisioned the 110-acre Dubai International Financial District to create a development strategy for the remaining10 million square feet in the overall 25 million square foot district.
In addition to a central pedestrian promenade and retail arcade linking the entire district together, 5+design's master plan calls for an indoor-outdoor town center with an open-air plaza, water features, a Cineplex and a live-performance theater – all of which will foster a sense of community among the broad diversity of people who live and work in the district, and create a truly cosmopolitan urban neighborhood in Dubai.
"We are very excited and honored to be apart of such a grand project", said 5+design partner, Michael Ellis. "The master plan we have established for the Dubai International Financial District is meant to inspire developers of individual parcels to leverage the opportunities of what is possible for the project as a whole. A lot of preparation and planning went in to this uniquely positioned district in Dubai in order to fulfill the vision expressed by DIFC Properties CEO, Brett Schafer."
The Dubai International Financial Center master plan integrates a combination of Class-A office, residential and retail space into a cohesive urban experience, enhancing the district's reputation as one of the world's premier global financial centers, and creating a destination worthy of its strategic location between Burj Khalifa and the Emirates Towers in central Dubai. The district, currently 60 percent complete and already home to many of the world's leading banks, money managers, insurers and law firms, has been engineered to live up to the discerning expectations of its exacting clientele, and meticulously strikes the perfect balance of premium urban mixed-use.
5+design has designed the streetscape adjacent to Dubai International Financial Center to encourage pedestrian access and foster a sense of walkability. During the day, the central retail concourse provides amenities to office workers and residents alike, and provides a comfortable, air-conditioned passage linking all buildings and activities. And at night, the majestically illuminated promenade and central plaza will provide an inviting and elegant backdrop for residents and visitors to enjoy an evening of al-fresco dining, entertainment, shopping at top tier retail stores, or attending exclusive events.
Ideally situated, the Dubai International Financial Center is than fifteen minutes from the Dubai International Airport, and adjacent to Downtown Dubai and Business Bay. The district also enjoys the advantage of being easily accessed by Sheikh Zayed Road, the city's main thoroughfare, and by several of the city's metro stations.
ABOUT 5+DESIGN
Established in 2005, 5+design creates award winning architectural, planning, urban planning and interior designs for clients across the globe. Their innovative retail, residential, hotel and integrated mixed-use developments are designed to enhance their surroundings and improve the lives of those who populate and move through them daily.
From designing contemporary master-planned communities in China and Egypt to numerous projects in Turkey, Russia, the United Arab Emirates and Asia, 5+design's expansive approach has led to collaborations with top real estate developers on some of the most progressive projects underway around the world.