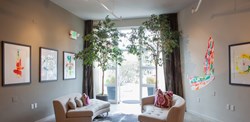 My primary goal is to place our artists' work in a wide range of public and private collections throughout the Bay Area
San Francisco, CA (PRWEB) October 28, 2013
Lim Gallery is celebrating their third successful year in business this month in their flagship fine art gallery located at the base of Potrero Hill in the San Francisco Design Center.
One of the first galleries to move to the Potrero flats area, Lim Gallery has been a pioneer since opening up in the area lesser known by art gallerists and collectors in February of 2010.
The San Francisco Chronicle recently ran an article declaring the Potrero flats an emerging hot spot in the art scene. They outline the move from Union Square to "a sketchily defined area just north and west of Potrero Hill, and just south and west of the Design District..Potrero flats contains old warehouse and factory spaces that, once refurbished, are perfect for showcasing artworks that need a lot of ceiling height and breathing space on walls." Lim Gallery aptly fits that description, as it's located in an iconic alumimum-sided building called Showplace Square Lofts at the intersection of 16th Street, De Haro Street and Rhode Island Street.
Lim Gallery joins the established company of Catharine Clark Gallery, the Jack Fischer Gallery, Brian Gross Fine Art and the George Lawson Gallery. The featured artist at Lim Gallery is currently Jan Siegel, who follows a successful solo show by Patter Hellstrom.
"It has always been my dream to open an art gallery. When I found this great loft space several years ago, I knew the time was right," said Chris Lim, owner of the gallery. "My primary goal is to place our artists' work in a wide range of public and private collections throughout the Bay Area, and it's amazing to see the change in the Potrero Hill neighborhood."
Learn more about upcoming shows at Lim Gallery at limGallery.com.