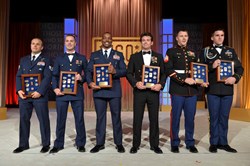 "For more than 72 years, the USO has given us a lot to be thankful for, a lot to be hopeful for, for it has allowed us to recharge our batteries and refresh our commitment to the great country we served," said Dempsey.
Arlington, VA (PRWEB) October 26, 2013
Washington, D.C. (October 25, 2013) – Tonight, an estimated 1,100 guests joined the USO to pay special tribute to our men and women in uniform at the star-studded 2013 USO Gala in Washington, DC. The Washington Hilton International Ballroom was filled with Washington dignitaries, celebrities, Members of Congress, military leadership, members of the USO Board of Governors and USO corporate sponsors.
Actor and USO tour veteran Dennis Haysbert served as emcee for the evening, and reflected on his USO tours abroad.
"I am a 5-year veteran of USO tours. I have been to Afghanistan, Iraq and one trip to Okinawa because I needed a break. I have over 150 challenge coins, all of which were given me in a handshake and all with same phrase, 'Thank you for risking your life to visit us.' I never saw it that way. … I saw [USO tours] as a way to pay tribute to the men and women who risk their lives daily so that I can up stand here and talk to you."
USO CEO and President Sloan Gibson reflected on his time at the USO. "Your USO has changed a lot over the past five or ten years. You've just seen how our scope and scale have grown. Our presence has expanded around the world. We extended our reach by working with hundreds of other organizations, to do more for the people we serve than we could ever do working alone. We expanded our knowledge of the needs of troops and families and by delivering on our promise — more than 30,000 times every day." Gibson has been nominated by President Obama as deputy secretary, U.S. Department of Veterans Affairs.
The first award of the night was the USO Volunteer of the Year Award, which was presented to Gunnery Sergeant Jeremiah Johnson of the U.S. Marine Corps. Recognized for breathing new life into the Camp Hansen and Camp Schwab USO centers in Okinawa, Japan, Johnson was honored for his enthusiasm, steller customer service skills and for treating each visitor with great care and attention.
Country music star and avid military supporter Wynonna Judd wowed the crowd with a rousing performance of songs both new and old. Saying she was honored to be among champions, Judd performed a new song from the upcoming film "Hornet's Nest" and longtime favorite 'No One Else On Earth.' Judd shared with the room her own history as caregiver for her husband after a motorcycle accident that left him seriously injured.
The USO Gala continued the time-honored tradition of recognizing the bravery, loyalty and heroism of an enlisted service hero from each branch of the military by presenting this year's USO Service Member of the Year Awards. General Martin E. Dempsey, 18th Chairman of the Joint Chiefs of Staff, led the tribute to these selfless heroes and thanked the USO for creating special moments for troops and their families around the world.
"For more than 72 years, the USO has given us a lot to be thankful for, a lot to be hopeful for, for it has allowed us to recharge our batteries and refresh our commitment to the great country we served," said Dempsey. "On behalf of the 2.4 million men and women in uniform and their families I represent, thank you leaders, volunteers, stars and supporters who give so much so that we who serve can continue to do so."
The 2013 USO Service Member of the Year Honorees:

Soldier of the Year: Sergeant Craig D. Warfle, 2nd Battalion, 75th Ranger Regiment (Fort Lewis, WA)
Marine of the Year: Sergeant Andrew C. Seif, 2d Marine Special Operations Battalion, U.S. Marine Corps Forces Special Operations Command (Camp Lejeune, NC)
Sailor of the Year: Petty Officer 1st Class Andrew C. Munden, Explosive Ordnance Disposal Mobile Unit THREE, Naval Amphibious Base Coronado (San Diego, CA)
Airman of the Year: Staff Sergeant Christopher D. Broyles, 140th Explosive Ordnance Disposal Flight (Buckley Air Force Base, CO)
Coast Guardsman of the Year: Petty Officer 3rd Class Samuel A. Peikert, Tactical Law Enforcement Team South (Opa Locka, FL)
National Guardsman of the Year: Staff Sergeant Christopher D. Petersen, 103rd Rescue Squadron, New York Air National Guard, Francis S. Gabreski Airport (Westhampton Beach, NY)
Entertainer Justin Timberlake sent a special video tribute to this year's honorees. "Everyday troops around the world are making life-changing choices for the benefit of us here at home. The six of you are being honored by the USO for showing bravery in the face of danger both on and off the battlefield," said Timberlake. "It's an honor for me to be able to say, on behalf of all Americans, 'thank you' for your service, sacrifice and dedication. You represent the best of the best – and we're proud to be always by your side. Congratulations and thank you."
This year's 2013 Spirit of the USO award went to Dave J. McIntyre, President and CEO of TriWest Healthcare Alliance. McIntyre, who also serves on the USO Board of Governors, was thanked by entertainer Gary Sinise in a heartfelt video tribute.
"We've had the opportunity to travel the world on several USO tours … as well as making some intimate visits to see our wounded, ill and injured troops in Germany," said Sinise. "You won this award because of what you do here every day – as a proud supporter of our troops. For your visits with the troops around the world and at the hospitals - wherever they are, you want to be."
Singled out for a special thank you during the evening was USO corporate partner Kroger. Over the past four years, Kroger, their customers and suppliers have donated $8.6 million making Kroger the largerst cumulative donor in USO history. Service honorees and their families were treated to a very special P&G "Thank you Military Mom" Beauty and Grooming Lounge for red carpet ready makeovers. Complete with stylists and beauty consultants, the event thanked these very special guests with a day of pampering.
Special thanks and recognition goes out to Gala sponsors including:
Chairman Sponsor: TriWest Healthcare Alliance
Vice Chairman Sponsors: Military.com and Procter & Gamble
Four Star Sponsors: Chevron, The Chrysler Foundation, Express Scripts Federal Pharmacy Services, Huntington Ingalls Industries and Northrop Grumman Corporation
Three Star Sponsors: Altria, BAE Systems, The Coca-Cola Company, DynCorp International, Lockheed Martin Corporation and United Healthcare Military & Veterans.
To obtain USO photos and video of tonight's event visit http://bit.ly/1chqAxy.
About the USO
The USO (United Service Organizations) lifts the spirits of America's troops and their families millions of times each year at hundreds of places worldwide. We provide a touch of home through centers at airports and military bases in the U.S. and abroad, top quality entertainment and innovative programs and services. We also provide critical support to those who need us most, including forward-deployed troops, military families, wounded warriors and their families and the families of the fallen.
The USO is a private, nonprofit organization, not a government agency. All of our programs and services are made possible by the American people, support of our corporate partners and the dedication of our volunteers and staff. In addition to individual donors and corporate sponsors, the USO is supported by President's Circle Partners: American Airlines, AT&T, Clear Channel, The Coca-Cola Company, jcpenney, Kangaroo Express, Kroger, Lowe's, Northrop Grumman Corporation, Procter & Gamble, and TriWest Healthcare Alliance and Worldwide Strategic Partners: BAE Systems, The Boeing Company, Lockheed Martin, Microsoft Corporation and TKS Telepost Kabel-Service Kaiserslautern GmbH & Co. KG. We are also supported through the United Way and Combined Federal Campaign (CFC-11381). To join us in this patriotic mission, and to learn more about the USO, please visit uso.org.
# # #