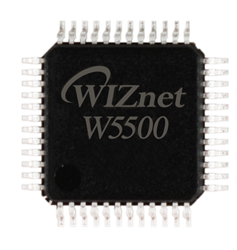 San Jose, CA (PRWEB) October 28, 2013
Today Wiznet announced production shipment of the W5500, the latest addition to their market-proven W5xxx lineup. The earlier W5100 and W5200 chips achieved success by bringing the benefits of hardware TCP/IP protocol processing to low-cost applications. The W5500 carries forward all the major features of the earlier chips:

Full featured 10/100 Ethernet MAC & PHY
Hardware TCP/IP Protocol Processing
8 independent sockets
32KB RAM buffer
New W5500-specific enhancements include a faster and more versatile SPI interface (up to 80 MHz) and the ability for the host MCU to flexibly utilize W5500 buffer RAM for general-purpose data, a plus when using low-cost MCUs with limited on-chip RAM. Application hardware design is simplified by the reduction of external power supply components and firmware-, rather than pin-, setting of PHY options.
Thanks to 3rd generation design refinement and migration to smaller geometry manufacturing process, the W5500 die size is significantly reduced. As well, the W5500 die has been laid out for easy integration with other die (ex: MCU, DSP, FPGA) using 'SiP' (System-in-Package) packaging techniques.
The W5500 uniquely enables Ethernet applications using popular low-cost 8/16-bit MCUs. The W5500 hardware protocol processing and large RAM buffer make it possible to craft an application that easily fits within small MCU on-chip memory. Ethernet capability can be added to an existing application without the need to switch to a more expensive MCU and completely redesign the hardware and software.
Large and small MCUs alike benefit from the W5500 'Internet Offload' capabilities that minimize application software interference and timing constraints associated with network activity. Application and network performance remain stable and predictable under varying load. Unlike designs that require software to handle basic network operations, the W5500 delivers a measure of 'firewall'-like protection and 'always on' reliability in hardware.
The W5500 can also function as a conventional Ethernet transceiver using software TCP/IP protocol processing. Now Ethernet transceiver-based designs have an easy and low-cost upgrade path to the W5500 by using existing software (ex: OS or RTOS 'TCP/IP Stack') while adding new features that take advantage of the W5500 hardware TCP/IP.
At just $1.49 in production volume (qty. 50K) the W5500 is a cost-effective solution for any Ethernet application, especially those using low-cost MCU. Sample quantities can be ordered for immediate delivery at http://www.shopwiznet.com or through the company's global distribution partners DigiKey, Future Electronics, Mouser (http://www.mouser.com) and Symmetry Electronics.