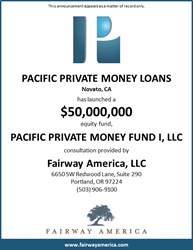 I investigated multiple law firms and consultants before choosing Fairway. Their program is unmatched, and they are taking this industry to a new level of professionalism. - Mark Hanf
NOVATO, CA (PRWEB) October 28, 2013
Fairway America, LLC ("Fairway") played the lead role in consulting, advising and guiding the structure and formation of the Pacific Private Money Fund I (the "Fund") in Novato California. The Fund's Manager, Private Money Management Group ("PMMG") is connected with Pacific Private Money, Inc., a California licensed Bay Area residential and commercial private money lending firm owned and operated by Mark Hanf.
After a 24 year career working in a closely-held real estate development company founded by his father, Hanf was introduced in 2007 to the business model of private money lending. He quickly realized that his prior years of experience buying, selling, analyzing and managing commercial and residential real estate perfectly suited him for success in running his own private money firm. "I started the firm in 2008 and over the next four and half years we originated over 500 loans and became one of the most successful private lenders in the Bay Area. With this type of volume, a mortgage pool fund seemed like a natural evolution for us."
As a dedicated learner, Hanf regularly attended various industry conferences and gatherings seeking contacts and education around the idea of a fund. But he struggled to locate a resource with which he felt comfortable. "The various attorneys I spoke with just didn't seem to fully understand what I have to deal with as a private money lender", said Hanf. Finally he met the Fairway people at a conference late in 2012. "I retained Matt Burk and his team to help create my mortgage pool fund and I couldn't be more impressed with their expertise, creativity and valuable insight." Fairway provided all the business and financial consultation as well as located and procured counsel to create all the legal documents and represent PPMMG and the Fund, quarterbacking the entire process. "As an experienced private lender and fund manager themselves, they have walked many miles in my shoes. They just understand my business so much better than the others I talked to", said Hanf. "I investigated multiple law firms and consultants before choosing Fairway. Their program is unmatched, and they are taking this industry to a new level of professionalism."
PPMMG has also engaged Fairway to handle the ongoing back-end administration for all of the Fund's activities. "Once I got the fund off the ground, I wanted to focus on originating loans and working with investors", said Hanf. "The last thing I wanted to worry about was all of the detailed ins and outs of fund administration, and yet I needed to know that it would be handled properly. I was able to engage Fairway so inexpensively that it was an absolute no-brainer to hire them to professionally administer the fund. Lance and the team have been fantastic to work with and been able to help guide me every step of the way. I couldn't be happier with their services from start to finish."
About Pacific Private Money
Known in the Bay Area as the "Private Money Guy", Mark Hanf is a lifelong Bay Area resident and has been in the real estate business there since 1982. He is a regular speaker at real estate events throughout the Bay Area and can be heard weekly speaking about the real estate market as co-host of the radio show "The Best of Investing" on 910AM KKSF. Pacific Private Money Inc. is a licensed Real Estate Broker, Finance Lender, and Mortgage Loan Originator in the state of California. Pacific Private Money Fund I accepts Accredited Investors only. For more information, visit http://www.pacificprivatemoney.com.
About Fairway America
Fairway America, LLC is a long-time real estate lender, fund manager and boutique real estate finance advisory firm providing strategic business planning services nationwide to select private money lenders and real estate operators around the structure, architecture, and administration of proprietary 506 Reg D mortgage pool funds. Fairway America Management Group is the manager of Fairway America Fund VI, LLC, making creative small balance real estate investments nationwide. For more information, visit http://fairwayamerica.com.