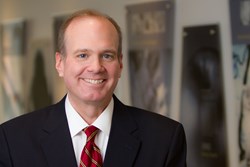 This Inventor Forum Kickoff event demonstrates St. Joseph Health's commitment to creating a culture of innovation.
La Palma, CA (PRWEB) October 28, 2013
Thomas Graham, MD, Cleveland Clinic's chief innovation officer and vice president of Orthopaedic Surgery, will help kick off The Innovation Institute's Inventor Forum Roadshow at noon on Wednesday, October 30 at St. Joseph Hospital in Orange.
Dr. Graham is recognized worldwide for his clinical expertise in hand, wrist and elbow surgery and has worked with many professional athletes. Graham holds nearly 40 patents on implants and other devices and has started several medical device and service companies. He will share his expertise in innovation development.
"Our physicians and employees are excited to hear Dr. Graham's lecture on the ideation process," said Deborah Proctor, president and chief executive officer of St. Joseph Health. "We're also eager to learn more about working with the dynamic team at The Innovation Institute."
Proctor, together with the St. Joseph Health Board of Trustees, helped form The Innovation Institute earlier this year, which is focused on cultivation of inventions and cost-saving ideas contributed by physicians and employees of seven non-profit health care system member owners. St. Joseph Health, a 16-hospital health system based in Irvine, Calif., is the first investor and member owner of the new entity. The Innovation Institute also has a strategic alliance with Cleveland Clinic Innovations, which is the commercialization arm for breakthrough inventions of the highly regarded Cleveland Clinic, a non-profit academic medical center based in Cleveland, Ohio.
"This Inventor Forum Kickoff event demonstrates St. Joseph Health's commitment to creating a culture of innovation," said Joe Randolph, president and CEO of The Innovation Institute. "Our plan is to transform the care delivery system through the commercialization of the most promising ideas of physicians and employees."
Inventor Forums for physicians and employees will be scheduled onsite at St. Joseph Health hospital locations through Spring 2014.
About The Innovation Institute
The Innovation Institute is an independent, for-profit LLC structured to cultivate innovative solutions to transform healthcare delivery. The Innovation Institute will be owned by seven non-profit health systems. This collaborative will tap into physicians, employees, and industry business partners to incubate and commercialize new products and ideas. Comprised of three distinct elements – an innovation lab, an investment fund, and a shared services group (Enterprise Development Group), the Institute strives to "do more, with less, for more people." For more information, visit http://www.ii4change.com.
About St. Joseph Health
St. Joseph Health (SJH) is a not-for-profit, integrated health care delivery system founded by the Sisters of St. Joseph of Orange. Today, SJH continues its work in the tradition of the Sisters through our wide networks of outstanding services. In each community it touches, SJH reaches out to care for the poor and vulnerable. In Southern California, these hospitals include St. Jude Medical Center in Fullerton, St. Joseph Hospital in Orange, Mission Hospital in Mission Viejo and Laguna Beach, St. Mary Medical Center in Apple Valley, affiliate partner Hoag Hospital in Newport Beach and Irvine as well as St. Joseph Heritage Healthcare, which includes four medical groups in Southern California. For more information, visit http://www.stjhs.org.
About Cleveland Clinic Innovations
Cleveland Clinic Innovations (CCI) brings world-class innovation to market by bridging discoveries into commercial products. Through support of a team of professionals with more than a century of product development experience, close to 2,000 patent applications have been filed and 350+ patents have been issued. There have been 63 spin-off companies in the last decade and nearly three quarters of them have received equity investment – more than $650 million to date. Moreover, CCI has transacted nearly 450 licenses and built a community of collaborators that advances innovation in nearly every aspect of Cleveland Clinic. For more information, visit http://www.clevelandclinic.org/innovations.