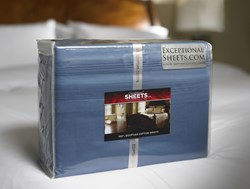 Evansville, Indiana (PRWEB) October 28, 2013
ExceptionalSheets.com announces the release of a new blog that will focus on proving that social media can be a profitable venture. While many companies believe social media is only for brand building, Exceptional Sheets, a leading online luxury linen retailer, looks to prove that it is also possible to achieve a positive ROI from social media efforts.
Paul Saunders, CEO and Founder of ExceptionalSheets.com, recently hired Brett Houchin as his Social Media Manager to release and manage his new blog and social media strategies. Brett previously worked for Zappos as a Blog and Video Supervisor.
"I have been approached by many social media agencies that are asking for huge fees and I always tell them the same thing; I will gladly work with them if they can just promise me some ROI in the first six months, and they will never guarantee anything," says Paul Saunders. "I want to be one of the first businesses to utilize Social Media to directly bring in profits and tangible results, not just brand building."
Since his hire in October, he and his new manager have been working closely to build a Social Media plan that will result in actual, tangible sales. So far, Brett Houchin has been able to double the Facebook Likes and Twitter followers. They are also posting daily updates on their blog five days a week as well as working on creating a video presence on Youtube.
According to Houchin, "Paul is very weary of all of the claims that Social Media experts and companies make. He doesn't see the value in strictly using it for brand-building and that alone, and I agree with him. "We want to make our Social Media presence a serious profit center in our business, in addition to using it for brand-building and customer engagement. I am here to prove that we can make Social Media be more than just an exercise in building a brand; we're going to use Social Media to help build the business."
Exceptional Sheets is among the nation's leading online retailers for luxury Egyptian cotton linens and bedding. Their product line is comprised of 100% Egyptian cotton bed sheet sets, mattress pads, duvet covers, bath linens and pillow cases. The company offers free worldwide shipping, featured daily deals and 125% satisfaction guaranteed.
For more information on Exceptional Sheets or to place an order, visit the website or call our toll free customer support line at 1-800-977-7433.