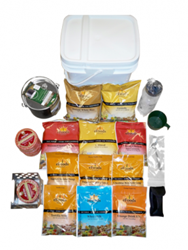 eFoods Direct's new 'Kar Kit' is the FEMA suggestion on steroids," said Steve Shenk, eFoods Founder. "In other words, it fills the FEMA recommendation and more.
Salt Lake City, UT (PRWEB) October 26, 2013
eFoodsDirect today announced that, in response to FEMA's recommendation that every household have a three-day kit of food on hand for each member of the family, eFoods Direct has created two new 3-Day kits that meet the FEMA recommendations.
"eFoods supports the counsel that FEMA is giving everyone to have three days or 72 hours kits of food on hand in case of emergency," said Steve Shenk, founder of eFoods Direct. "This new 'Kar Kit' is the FEMA suggestion on steroids. In other words, it fills the recommendation and more."
eFoodsDirect has created two new emergency food kit options that fulfill the FEMA suggestion for families.
The first is a "3-Day Food Kit" that includes a 3-Day food supply for one adult. The kit includes mylar-packaged storable recipes that are easily prepared by adding water and heating. Meal packages include Pasta Fagioli Soup, Creamy Potato Soup, Tortilla Soup, Almond Coconut Granola, Cheesy Chicken Rice Casserole and Seasoned Instant Potatoes.
The second is the eFoods "Just in Kase" 3-Day Emergency Kar Kit. This 3-Day food kit is a survival kit which includes a food supply for 1-2 adults (3 hearty meals a day, plus drinks), as well as a box stove, 6 eFuel discs, a cooking pot with lid, utensils, a measuring cup, a water-filtering bottle, a lighter, and an all-in-one tool, all in a sturdy and convenient 4-gallon bucket.
"Floods, fires, droughts, earthquakes, hurricanes, tornadoes… job loss, government shutdown, and more," said Steve Shenk. "You don't have to be a prepper to know that troubling things can happen. That is why we created these 3-Day Kits based on the FEMA recommendations that every family be prepared 'just in case.' "
The eFoods Direct mission is to have every person in America prepared with peace of mind through food independence in times of hardship.
"It is the patriotic duty and the moral responsibility of every American to take care of themselves, which will allow relief organizations to focus on those who really need the aid," said Steve Shenk.
About eFoods Direct: eFoods Direct is a leading provider of emergency food supply products and humanitarian aid, including recent efforts which provided over 50,000 meals to the Oklahoma tornado victims and rescue volunteers. Founded by Steve Shenk, a nationally-recognized expert in food security with 30 years of experience, eFoods Direct's goal is to help all American families have delicious, affordable, healthy, and storable food for emergencies or any time. For more information about eFoodsDirect, visit http://www.efoodsdirect.com or contact Marina Peterson at marina@efoodsdirect.com or (800) 810-4441.
References:
eFoods Direct in the media:
http://www.ksl.com/?sid=25478736&nid=148&title=utah-company-offers-easy-way-to-help-ok-tornado-victims&fm=home_page&s_cid=queue-2