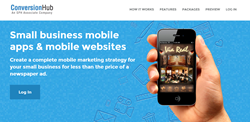 We have more than 500 features, modules, and custom options for businesses across all industries
Singapore, Singapore (PRWEB) October 28, 2013
Businesses looking to cash in on the growing population of smartphone users can take advantage of Conversion Hub's new Mobileapp Hub developer to create, edit, and manage custom-made mobile apps and mobile websites.
All these can be done without the need of prior programming knowledge or hiring an app developer.
With features like unlimited push notifications and Quick Response (QR) Code coupons, Mobileapp Hub development works across platforms –iPad, iPhone, and Android as well as mobile web apps. Business owners can choose from industry-specific templates – such as restaurant, bar and club, realtor, lawyer, gym and fitness, and spa and salon. "We have more than 500 features, modules, and custom options for businesses across all industries," said Joel Fu, Business Director of Conversion Hub.
Designed to have a user friendly content management system, business owners can create their own app in less than 30 minutes without devoting an entire team of people to create and maintain it. Mobileapp Hub integrates directly with more than 20 of the most popular third-party web applications, like Google, Facebook, YouTube, Shopify, and more.
The need for businesses to use mobile apps to reach potential and current customers is growing. The number of people carrying smartphones is so rapid that worldwide there will be more mobile phones than personal computers, and smartphone carriers use their mobiles to locate businesses. "Not having a mobile experience can make a business lose customers," said Joel Fu.
Mobileapp Hub uses a geo-location global positioning system (GPS) to send promotions to customers near a business' location, taking the place of flyers and mailers. Mobileapp Hub can also monitor real-time foot traffic and use that information to deliver coupons when potential customers are in the area.
ABOUT CONVERSION HUB
Conversion Hub Marketing is a SPH Associate Company. We are an approved S6 Government vendor for projects up to $3 million and serves as Digital Advisor to the Direct Marketing Association of Singapore (DMAS). Conversion Hub delivers world-class, Facebook marketing and mobile app services based on the premise of performance excellence and long-lasting results. Leveraging on their exclusive network of over 30 million social profiles and 25 thousand media points, we are the only agency to offer performance guarantees across all our marketing channels. Headquartered in Singapore, Conversion Hub combines a decade of digital experience in online sustainability and marketing expertise, serving brands and government institutions such as Philips, Bayer, Microsoft, SingTel, National Heritage Board, Prime Minister Office, Public Service Commission, National University of Singapore and many others.