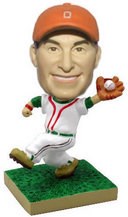 (PRWEB) October 26, 2013
Likenessme.com is a well-known custom Bobblehead dolls online shop that offers customers its exquisite custom Bobbleheads at low prices. Today, the company announces a site-wide promotion of custom Bobbleheads, up to 50% off.
Custom bobbleheads can bring customers both happiness and luck. According to Jim Xu, a sales manager of Likenessme.com, the talented artists will capture a customer's look from the provided photos, and most of the dolls are in 6.5 to 7.5 inches. Each of the custom Bobbleheads is handmade. Each custom Bobblehead is a piece of artwork.
"We are excited to introduce our cheap custom Bobbleheads to more people. All our products are offered at discounted prices now. At Likenessme.com, you will find the best custom Bobblehead dolls in the world. We understand that when new customers come to our shop they often get shocked by our innovative products," says, Jim Xu.
He adds, "Our products are innovative and interesting. We are not trying convince visitors to buy our products, but most of them will like our designs when they see our products and the reviews online. Our experience gives us a unique understanding of what goes into the custom dolls that we produce."
Likenessme.com has promised to spare no energy to offer premium quality products for customers as before. The custom Bobbleheads that are now for sale can be quoted in price or requests for much more information are available at the company's website.
About Likenessme.com
The Likenessme.com company is known for retailing personalized bobblehead dolls since 2005. All its designs are offered at affordable prices. The shop features hundreds of different styles of Bobblehead dolls listed online through its database system that visitors can access easily.
More information can be found at http://www.likenessme.com/