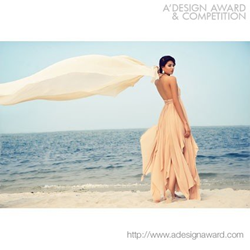 Como, Italy (PRWEB) October 27, 2013
A' Design Award and Competitions are proud to announce that the design Bamboo Lattice by Do Thanh Xuan became winner of the prestigious Silver A' Design Award at Fashion, Apparel and Garment Design Competition amidst thousands of submissions.
Regarding Bamboo Lattice
In Vietnam the bamboo lattice technique is being used in production of many things such as boats, furniture, chicken cages, lanterns. Bamboo lattice is strong, inexpensive and easy to make. The Bamboo Lattice Collection idea is to create a resort fashion wear that is exciting and graceful, sophisticated and charming. Application of bamboo lattice details into fashion pieces was made by converting the raw, hard regular lattice to the soft material. All designs combine tradition with modern form, the hardness of the lattice pattern and sand softness of fine fabrics.
To learn more about this design, please visit: http://www.adesignaward.com/design.php?ID=26647
The Silver A' Design Award
The Silver A' Design Award is a prestigious award given to top 5% percentile designs that has accomplished an exemplary level of greatness in design. The designs are judged by a panel of three different jury which is composed of Academic, Professional and Focus Group Members. The designs are evaluated with score normalization to remove any biases and are voted on aspects such as functionality, ergonomics, engineering, presentation, innovation, usability, fun details, technology, and any other specific points that could be considered, each of these points are further weighted for different jury groups.
About A' Design Award and Competitions
A' Design Award and Competitions, aims to highlight the excellent qualifications of best designs, design concepts and design oriented products. A' Design Award and Competitions are organized and awarded annually and internationally in multiple categories to reach a wide, design-oriented audience. Learn more: http://www.whatisadesignaward.com