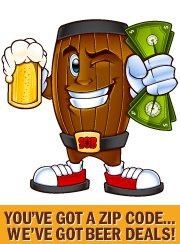 Since we aren't charging for access to our site or for our new mobile apps, it's a slow path to prosperity.
Houston, TX (PRWEB) October 28, 2013
SaveOnBrew.com was launched in 2010 as the nation's only reliable source of beer price information. The site worked like Google for beer – where users enter a zip code into the search engine and could pull up a list of all the beer brands, beer types, retailers and prices available locally. The site was fleshed out with maps to retailers selling beer on sale, a beer merchandise store, and a Beer Blog offering the latest news and amusing analysis of the beer industry at large. This week, the site celebrates the achievement of another milestone as it passes its millionth visitor.
"We're pleased with our site's organic growth, particularly over the past year as we've focused on content development and adding bigger national retail accounts to our site," explains SaveOnBrew founder Mark Davidson. "Since we aren't charging for access to our site or for our new mobile apps, it's a slow path to prosperity, but we feel like we're in a good position to solicit advertiser dollars with such a large number of users."
Davidson says that the Facebook "Page Suggestions" tool has worked particularly well in garnering new fans. Posting twice daily with a photo in the morning and a blog in the evening has also been a strategy that adds many new followers every day.
"We are really digging the increase in mobile traffic too," Davidson adds. "Our business works particularly well with mobile users. How many times have you been at a friend's party, had more fun than you were expecting, run out of beer, and wondered 'where is the closest place with great beer pricing?' Now you can hop on your smartphone and get a map to, not only the nearest place with beer, but the nearest place with beer ON SALE."
SaveOnBrew users can also look for new beer suggestions by searching the craft beers listed in the database or by checking out one of the blog's many best beer lists. The Blog ramps up beer suggestions around the holidays, with "Best Pumpkin Beers," "10 Best Halloween Candy & Beer Pairings," and "Best Beers To Have With Thanksgiving Dinner" as popular autumn themes.
The year the site launched, there were twenty thousand visitors, so to reach one million users in a few short years is a milestone worth celebrating, says Davidson. "I dunno, the gang and I will probably get together over a few beers and decide on our next move to make the site even better. In the future, I envision selling advertising to city tourism bureaus to give users a fully customized, local, beer-themed experience that links them to everything cool and brew-related in their respective cities."
For more information on current advertising opportunities or the SaveOnBrew story, visit http://www.SaveOnBrew.com or contact Mark Davidson directly.
About SaveOnBrew.Com: Founded in 2010 to help thirsty beer drinkers across the United States find the lowest advertised prices for one of the world's most popular beverages.