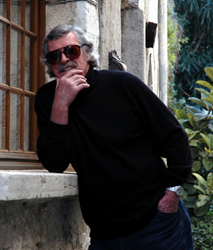 My songs are directed toward those who often don't wish to face the truth, but rather be someone they are not. One must first live with oneself before one can live with others. My songs head in that direction and become more meaningful to the listener.
(PRWEB) October 28, 2013
After spending a successful career in international business, you'd think Bob M. Wagner would consider slowing down his pace living in St. Paul de Vence, France. With an inner drive to continuously exercise his musical gifts, he feels he's just getting started. His primary focus these days is his work as a jazz composer and musician.
Throughout his musical journey Robert has amassed over 150 compositions; mostly big band-era jazz tunes that have been well-received on the international stage. His first composition, "No Small Talk Please" was recorded by Andy Williams, who performed it on NBC's Steve Allen Tonight Show in New York and recently was recorded by Universal Music artist Laura Fygi on her CD, "Change."
After a series of a dozen tunes co-written with world renowned, Academy award winning British songwriter Leslie Bricusse of West End and Broadway musicals, Wagner seeks writers that will compliment the roster of compositions readied for a broadway musical.
Most recently, Robert has been collaborating with Emmy Award winning pianist, conductor/arranger, Lee Musiker. Together, they have arranged and recorded a number of Robert's original songs with Robert taking center stage as songwriter and singer leaning toward jazz ballads, while lyrically reflecting a spirit of romanticism, love and life drawing from his life experiences.
Wagner has produced a wealth of musical gems over the years that he believes will be the wellspring for many vocalists to draw from adding to their current repertoires.
"I went through long periods of not writing at all while I was engrossed in international business. I lived a seesaw-like love affair with my musical aspirations which had to take a back seat to my busy days in the business world." 
Throughout his five decade-long career, Robert forged friendships with musical superstars such as Hoagy Carmichael, Eddie Fisher, Carol Burnett, Julie Andrews, Shirley Bassey, Anita Kerr, Laura Fygi, and more. He hopes to shine a light in the musical realm offering his music to today's musical brilliance such as: Michael Feinstein, Michael Buble', Harry Connick, Jr. and Stacey Kent to name a few.
Joining the pulse of today's technology and social media environments, Wagner has created his own music network with the help of Jaijai Jackson, creator and owner of The Jazz Network Worldwide. "When Bob contacted me I was truly mesmerized by his lyrical content that captured the core values of one's heart, releasing real emotion by lighting the path in making people feel not alone in there times of heartache and needs," says Jackson. He brings forth the genuineness of relationships across the board from man-woman to the trials and triumphs we all experience in life. Bob not only captures the lyrical content but embroiders it with lovely melodies, inviting chorus's and rhythmic exchanges resulting in an exceptionally moving piece. It was my joy to create his music network and assist him in his quest in reaching the music marketplace with his music," states Jaijai.
"My songs are directed toward those who often don't wish to face the truth, but rather be someone they are not. One must first live with oneself before one can live with others. Many of my songs head in that direction and thus may become more meaningful to the listener," claims Wagner.
"His Way" volumes are a compilation of songs in demo format with simple accompaniment as well as fully produced songs. Bob's delivery is filled with originality and conviction leaving the listener in a wistful state of mind toward life-sharing experiences. Versatile as his music is, he has written a few tunes that lend themselves comfortably to Broadway and Country Music as well.
Be sure to come by and check out his feature on The Jazz Network Worldwide at http://www.thejazznetworkworldwide.com. To learn more, listen to his music, purchase, and join Bob M. Wagners Music Network go to http://www.bobmwagner.com.