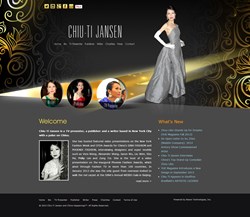 Our new looks and exclusive contents reinforce the essence of our brand: unsurpassed style and access.
New York, NY (PRWEB) October 28, 2013
CHINA HAPPENINGS™ is pleased to announce that its redesigned website (http://www.chinahappenings.com) has gone live. The new website includes timely updates about the company's TV/video presentations, magazine publications, blog posts, philanthropic activities and press followings.
Recent additions to the site feature an interview with China's top stand-up comedian Zhou Libo, who boasted more than 37 million Weibo (Chinese equivalent of Twitter) followers and interviews of super model Liu Wen and designer Vivienne Tam at the inaugural China Fashion Night gala. Other highlights include interviews of Chinese celebrities Lin Zhiling, Jiang Xin, Zhang Xinyi et al. during the Spring/Summer 2014 New York Fashion Week, a preview of the China Focus of the 2014 Armory Show and the redesign of YUE Magazine, a bilingual luxury lifestyle magazine co-founded and co-owned by CHINA HAPPENINGS™.
Chiu-Ti Jansen, Founder of the CHINA HAPPENINGS™ brand, commented: "Our new looks and exclusive contents reinforce the essence of our brand: unsurpassed style and access. As a gateway to contemporary China, CHINA HAPPENINGS™ is engaging our followers with an in-depth point-of-view on China's style and aesthetics. Our new website takes the viewers to China's dynamic art, fashion, cinema and performance art scenes in their multi-faceted, gripping dimensions."
The upcoming highlights include coverage of the New York Chinese Film Festival and the Chinese elements in a career survey of Jean-Paul Gaultier's fashion designs at the Brooklyn Museum. The company also plans to launch a Chinese language site later this year.
CHINA HAPPENINGS™
CHINA HAPPENINGS™ is a multimedia platform founded by Chiu-Ti Jansen that focuses on the lifestyle and cultural industries in contemporary China. Ms. Jansen is a TV presenter, a lifestyle magazine publisher and a writer based in New York City with a pulse on China. She hosts TV and video presentations on fashion and style for Phoenix TV, Phoenix Fashion and SINA Fashion, and writes a blog titled CHINESE ELEMENTS for international auction house Sotheby's (http://www.sothebys.com/en/news-video/blogs/all-blogs/chinese-elements.html) and a fashion and style column titled NEW YORK IN STYLE for the Financial Times' Chinese edition (http://www.ftchinese.com/column/007000053). Prior to founding CHINA HAPPENINGS, Ms. Jansen was a New York-based corporate partner of an international law firm. A native speaker and write of Mandarin Chinese, Ms. Jansen holds advanced degrees from Yale University and Columbia Law School and serves on the Contemporary Art Advisory Committee of China Institute in America and the Board of the Couture Council of Museum at the Fashion Institute of Technology (FIT).
Press Contacts: info(at)chinahappenings(dot)com