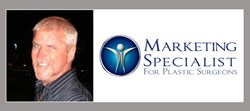 You are a Plastic Surgeon. Let me help you promote your name as a local expert in Plastic Surgery in all the media channels. I'm Craig Stephens, a Plastic Surgeon Marketing Specialist.
Key Largo, Florida (PRWEB) October 29, 2013
Blue Ocean Marketing Specialists Targets Florida-Based Plastic Surgeons!
MarketingSpecialistsforPlasticSurgeons.com, a Florida-based blue ocean marketing strategy service provider, has announced its intention to help plastic surgeons' practices tapped into untapped market spaces where opportunity abounds for highly profitable growth development.
"The only reason more service providers like plastic surgeon practices don't set sail for the wide open blue ocean is that the dominant focus of strategy work over the past twenty-five years has been on competition-based red ocean strategies, meaning they've found new ways to cut costs and grow revenue by taking away market share from the competition," says blue ocean marketing specialist for plastic surgeons and head of MarketingSpecialistSforPlasticSurgeons.com, Craig Stephens.
"My job is to help you access untapped market space and the opportunity for highly profitable growth," adds Craig.
With this groundbreaking service, Craig urges surgeons to value innovation that focuses on utility, price, and cost positions, to "create and capture new demand" and to "focus on the big picture, not the numbers.
And while his heavyweight analytical tools may be of real use only to serious strategy planners, Craig's overall focus is to inspire entrepreneurial minded surgeons of all stripes, as most of his marketing ideas are presented in a direct, jargon-free manner.
"Mine is not the typical business management consultation's vague call to action," notes Craig. "It is a precise, actionable plan for changing the way plastic surgeons run their practices with one resounding piece of advice: swim for open waters."
According to Craig, if "you are a plastic surgeon, please let me help you promote your name as a local expert in plastic surgery in all the social media channels," appeals Craig, the plastic surgeon marketing specialist.
For further information about Craig Stephens' "blue ocean" marketing strategy for plastic surgeon practices, please contact: Craig Stephens, President, 305-879-5631, craig.stephens(at)MarketingSpecialistForPlasticSurgeons(dot)com, or visit his website at http://www.marketingspecialistforplasticsurgeons.com/