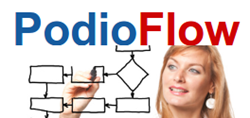 Calgary, Alberta (PRWEB) October 28, 2013
Globi Web Solutions is proud to announce the launch of their latest product: PodioFlow, which allows full workflow automation within the Podio work platform.
Podio is an online work management platform, that makes it easy for smaller businesses to effectively and affordably have online workspaces to manage many business processes, including CRM, Project Management, Human Resources, and more. Podio's strength comes from its simplicity and flexibility, allowing the user to create custom apps to manage almost any data.
WorkFlow Automation inside Podio.
Although Podio is an excellent platform, the data in Podio can often be siloed and require a lot of active human management. Globi Web Solutions created the PodioFlow product to fill this need in the market.
PodioFlow allows companies to define workflows to automate business processes inside Podio, based on pre-defined rules and logic.
Each flow in PodioFlow starts with a trigger, that sets it off. Triggers can include days and dates, or on updated and creation of new Podio items (records).
Flows also include extensive filters to allow users to define when a triggered flow should continue, and when it shouldn't.
After a flow is triggered and all filter requirements have been met, it will perform pre-defined actions, which can include assigning tasks to users, updating items, creating new items, sending emails, or performing math functions on related items.
Some of the more powerful implementations of PodioFlow have been to automatically calculate the billed time of a Project Deliverable by adding up all related timesheet entries when a timesheet entry is created or updated.
The most highly used function in PodioFlow has been to assign a task or send a message when a Podio Item has a status field changed to a specific status, or when an Item's due date is reached.
The PodioFlow.com website offers a 30 day free trial to allow users to try out the solution and see if it's a good fit. No credit card is required for the trial account, and there is no obligation.
The power of PodioFlow comes from the flexibility in triggers, filters, and actions, which can create powerful logic for workflows.
For more information on PodioFlow, visit http://www.podioflow.com or contact Andreas Huttenrauch directly at (403) 775-0580, or visit the main Globi Web Solutions Website at http://www.globi.ca/.