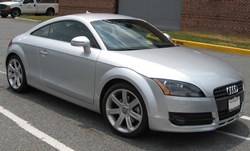 Supercar Experience's Director, Nik Hardwick, was quoted, "It'll be fantastic to have these limited edition Audi's driving on the UK roads, after the immense success of the TT model."
London (PRWEB UK) 28 October 2013
Supercar Experiences, an Audi hire in the UK company, is excited to announce that the UK will be receiving 120 limited edition Audi TTs. 500 are being made by the Volkswagen Group, a subsidiary of Audi, in the milestone celebration of 500,000 TT models being sold.
The Audi TT, a small two-door, two-seater sports car, was originally launched in 1998 as the coupe. The roadster followed in 1999 and a second-generation model followed in 2006. This special edition vehicle will resemble the standard TTS model with the same 268bhp five-cylinder petrol engine, but with some cosmetic and equipment upgrades including exclusive exterior paint colours, Nimbus Grey for the coupe (from £38,860) and Imola Yellow for the roadster (from £42,320). Grey leather seating will have "baseball" stitching. A numbered plaque designating each car as 1 of 500 will be inserted in the door trim. Other upgraded features include 19-inch five-spoke alloy wheels, cruise control, Bluetooth connectivity, xenon headlights, as well as LED running lights, BOSE sound system, rear parking, lighting, and rain sensors, and an interior light package. For speed enthusiasts, the cars go from 0-62 mph in 5.3 seconds limited to a top speed of 155 mph while still maintaining an average of 36.7 mpg.
Imagine making a childhood dream of driving that special car a reality such as the new, exclusive Audi TT. Supercar Experiences, established in 2003, provides the opportunity to hire or rent a well-kept, low mileage luxury or performance vehicle. Car enthusiasts will be happy to know that the company offers a price match privilege, manages and owns all of the 60+ classic to newer model vehicles it carries, thereby eliminating the frustration of a middleman, delivers cars to an individual's residence, in and around London, or even straight to the airport lounge for traveling customers. Supercarexperiences.com will make sure that a driving experience set up through them will be both memorable and enjoyable.
Supercar Experience's Director, Nik Hardwick, was quoted "It'll be fantastic to have these limited edition Audi's driving on the UK roads, after the immense success of the TT model."
ABOUT SUPERCAR EXPERIENCES
Supercar Experiences has provided personal and professional service to the UK for over 10 years. Distinguished as the UK's premier true Supercar Hire Company, they are in business to serve car enthusiasts in the UK, including counties in and around London such as Berkshire, Buckingham, Essex, Hertfordshire, Kent, Middlesex, Surrey and Sussex. They can be contacted at 0845 6022 113 or through their website for your own personal Audi let in the UK experience.