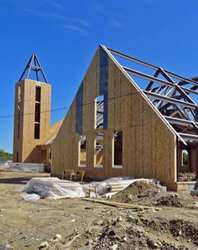 Providing members and other supporters with an online opportunity to save and give makes sense in today's economy.
(PRWEB) October 28, 2013
Unique Church Fundraising Ideas | SoMuchSavings.com:
As pastors and congregations look for unique church fundraising ideas to assist with special needs, ministries and projects, SoMuchSavings.com is providing a solution that is easy to use and provides a steady stream of financial support.
The SoMuchSavings.com "Save to Support" platform enables churches and ministries to set up free, custom-branded websites where parishioners and other supporters can shop and save on everyday products, with a portion of those purchases returning to the church organization to support its causes and projects.
Churches looking to raise money for youth groups and other special needs can quickly spread the word about their projects through the SoMuchSavings.com system. Their unique website on the SoMuchSavings.com platform includes sections where they can describe their church, their project, their history and more—including news about events and answers to frequently asked questions.
Unique church fundraising ideas are necessary in today's giving environment. Churches, like other charities, felt the effects of the recession that began to affect the economy as early as 2007. Coupled with ongoing reports of declining church attendance—a trend that has existed in the United States for the past 30 or 40 years—it has made it more challenging than any time in modern history for churches to adequately fund all of their ministries and programs.
Church support no longer relies on just passing the collection plate every Sunday morning, or even traditional means of giving like tithing or special offerings. Bake sales, car washes, spaghetti dinners and other commonly used activities have lost their effectiveness as people have been stretched thin by demands of similar events conducted on behalf of other non-profit charities, schools and civic organizations.
"Not only is SoMuchSavings.com a new and unique way for churches and other charities to raise money, it's an effective way of sustaining revenue over time," said David N. Capo, CEO of SoMuchSavings.com. "Once people discover the savings that are available on literally millions of products we have available, they'll return time and time again to shop, and each transaction will result in a donation being made back to the charity of their choice."
Online shopping is a trend on the rise. Many people assume that church membership is made up primarily of older Americans who are not online shoppers. However, statistics show that three-fourths of the nation's wealth is concentrated among people age 55 and older, and that those people—many of whom are part of the Baby Boomer generation—spend more than twice as much shopping online as do their younger counterparts.
"Providing members and other supporters with an online opportunity to save and give makes sense in today's economy," said Capo. "It's a technology-oriented world we live in, and people have been adapting quickly to the opportunities available to them via the Internet."
It's easy for churches, ministries, youth groups and other faith-based organizations to partner with SoMuchSavings.com. There is no charge to sign up, or for their custom-branded website to be hosted on the SoMuchSavings servers. Once the site is created, members, friends, family members and other supporters can be directed there to shop and save on everyday products like clothing, furniture, household items, sporting goods and more. Every time someone makes a purchase on their site, a portion of the transaction is designated to go back to them to support their programs and projects.
"People today are shopping online in growing numbers," said Capo. "Once they know they can save money at a shopping site, they'll return to it time and time again. Every time they do, the church or cause that they've chosen to support will benefit.
"The more people who shop at the site, and the more often they shop, the more a church or church ministry will benefit. It's a better, more convenient way to give back in today's Internet-driven world."
About SoMuchSavings.com:
SoMuchSavings.com is an incentive-based, online savings resource that provides consumer savings, charitable donations and project funding to 501c3s, non-profits and unique project ideas. The company believes that, given the opportunity to do so, consumers will want to save money on purchases and help others during the process. The SoMuchSavings.com system was designed and developed to make this a reality for consumers, charities and projects around the globe. All registered causes are provided with their own savings, marketing and fundraising website. Learn more at http://www.SoMuchSavings.com.
Media Relations:
Tom Delamater
Delamater Media Group
(330) 437-5975