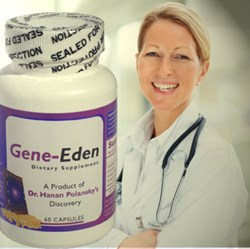 'Knowing that some herpes strains are becoming resistant to drugs like Acyclovir, reinforces the need to help the immune system target the latent virus with treatments that do not produce resistance.' – Mike Evans, polyDNA
Rochester, NY (PRWEB) October 28, 2013
A new study found herpes strains, which are resistant to Acyclovir in both immunocompetent and immunocompromised individuals. Acyclovir resistance means that the drug was found ineffective against certain herpes strains. "Acyclovir (ACV) is the first-line treatment for the management of herpes simplex virus 1 (HSV-1) and 2 (HSV-2) diseases (1)." However, ACV is no longer as effective as it once was. This is true both for those with a strong and weak immune system (1).
Study authors wrote that use of ACV over long periods can lead to drug resistant herpes. "Long-term administration of the drug for the treatment of chronic infections in the immunocompromised host can lead to the development of ACV-resistance (1).
Why is resistance to Acyclovir a problem?
An article published on the New York Times website said that, "To suppress outbreaks, treatment requires taking pills daily on a long-term basis. (Acyclovir and famiciclovir are taken twice a day, valacyclovir once a day.) Suppressive treatment can reduce outbreaks by 70 - 80%. (2)."
However, when anti-herpes drugs are no longer effective, the attacks are more severe, outbreaks last longer, and they cover larger areas of the body, and can be more painful. When a drug resistant herpes strain infects an individual with a very weak immune system, it can cause serious and even life-threatening complications, including: "pneumonia, inflammation of the esophagus, encephalitis (inflammation of the brain), destruction of the adrenal glands, disseminated herpes (spread of infection throughout the body), and liver damage, including hepatitis (2)."
According to another study published on April 8th, 2013 in The Proceedings of the National Academy of Sciences (PNAS), herpes outbreaks can occur over and over again, usually in the genitals or the mouth. This is true even in people with healthy immune systems. "In immunocompetent individuals, HSV may cause clinical recurrences…infections may become chronic and result in physical disabilities, social exclusion, and psychological distress over time. Moreover, severe and even life-threatening infections can particularly occur in …immunocompromised individuals (1)."
"Knowing that some herpes strains are becoming resistant to drugs like Acyclovir, reinforces the need to help the immune system target the latent virus with treatments that do not produce resistance." – Mike Evans, polyDNA
polyDNA recommends that all infected individuals use Gene-Eden-VIR, a natural herpes remedy proven to be safe and effective in a post marketing clinical study published on August 12, 2013 in the medical journal Pharmacology & Pharmacy in a special edition on Advances in Antiviral Drugs (3). Additionally, up to 70% of those studied reported a decrease in viral symptoms, and users experienced an increase in overall health (3).
Each ingredient of Gene-Eden-VIR was chosen through a scientific approach. Scientists scanned thousands of scientific and medical papers published in various medical and scientific journals around the world to identify the safest, most effective natural ingredients that target the latent form of herpes. (3)
To learn more about Gene-Eden-VIR and herpes, visit http://www.gene-eden-kill-virus.com/Herpes-Remedy.php. All orders of Gene-Eden-VIR are completely confidential, and no information is shared or sold to any third party. Privacy is assured.
Reference:
(1) http://www.ncbi.nlm.nih.gov/pubmed/24152761
(2) http://health.nytimes.com/health/guides/disease/genital-herpes/print.html
(3) http://www.scirp.org/journal/PaperInformation.aspx?PaperID=36101
polyDNA is a biotechnology company that develops dietary supplements using the unique scientific method developed by Dr. Hanan Polansky, which is based on Computer Intuition.
In addition to his unique scientific method, Dr. Polansky published the highly acclaimed scientific discovery, called Microcompetition with Foreign DNA. The discovery explains how foreign DNA fragments, and specifically, DNA of latent viruses, cause most major diseases.
polyDNA developed Gene-Eden-VIR , an antiviral natural remedy that helps the immune system kill latent viruses.