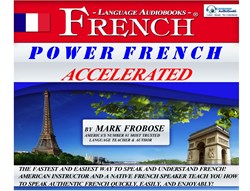 Power French Accelerated is by far the fastest and easiest way to speak authentic French. - Mark Frobose/President LanguageAudiobooks.com
Champaign, IL (PRWEB) October 29, 2013
Language Audiobooks Inc. today announced the release of Power French Accelerated, the first entirely audio French course to truly give anyone an easy and convenient way to speak and understand authentic French from France.
"In talking with our customers, one thing that became very clear was that they were in serious need of a good French language program that would make it easy for them to speak and understand authentic while on the go," said Mark Frobose, founder of Language Audiobooks. "That's what Power French Accelerated was designed to address."
"Most people don't know which French language program to buy, and when they finally do buy one, they get a gimmicky feel-good program that doesn't teach real spoken French," added Frobose. "The French language is one of the most beautiful languages in the world, and Power French Accelerated is by far the fastest and easiest way to learn to speak it correctly," he concluded.
"The initial response to Power French Accelerated has been even better than we expected," continued Frobose. "I think that what we're seeing here is that language learners are drawn to some of the other benefits as well."
For example, Frobose said that many language learners were finding the versatility of a downloadable, self-contained English to French all-audio language program on their smartphone an important added plus -- a feature not available in any other French program. "We thought it was important, when creating Power French Accelerated, to give even more than what people were asking for," said Frobose. "That's why we didn't stop at the obvious angle. We really tried to cover all the bases."
With Power French Accelerated, language learners will now be able to:

Learn real French from any location while on the go
Learn how to create their own original sentences in French
Hear and practice with a charming and degreed native French speaker
Pay less than $20.00 per downloadable program
Language Audiobooks Inc. is the nation's leading creator of fast and easy-to-learn learn digital language programs. The company has also produced the bestselling Power Spanish Accelerated and Power Italian Accelerated. The company's founder, Mark Frobose, is a bestselling multilingual author and teacher who created the entire language program line for Macmillan Audio of New York. People may download Power French Accelerated and other Language Audiobooks programs by going to Audible.com.