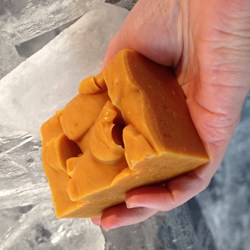 "It's as close to eating pumpkin pie in the shower as you ever need to get."
Carbondale, CO (PRWEB) October 30, 2013
Osmia Organics announces its new Zucca Spice soap today. The artisan, luxury skin care line is known for its attractive, hand-made soaps, using organic and natural ingredients. This latest formulation includes organic pumpkin pulp - the flesh of the fruit itself - hence, the name Zucca, which means pumpkin in Italian.
Pumpkin has been extensively used in niche skin care lines because of its enzymatic exfoliating ability. The enzymes in pumpkin flesh cause a very gentle sloughing of dead skin cells, especially important as our skin gets more dry in the colder weather. As dried cells accumulate on the surface of the skin, our natural beauty products become less effective, as it is harder to moisturize and nourish skin through a layer of dead epidermal cells. By removing the dead skin cells, cell turnover is stimulated, and the skin is able to absorb nutrients more effectively.
Zucca Spice exfoliates the skin not only with organic pumpkin, but with rosehip seed powder as well. Rosehip seeds are ground into a fine powder, which is incorporated into the soap. It provides a barely discernible, granular texture, and a gentle mechanical exfoliation to compliment the enzymatic action of the pumpkin.
Both rosehip seeds and pumpkin are also known for their high vitamin A content, and antioxidant activity. After exfoliation with the soap, the skin is ready to absorb these beneficial nutrients. Vitamin A is a precursor to retinoic acid, which is known to enhance skin function and cell turnover rate. Antioxidants help prevent excessive oxidative damage to the skin (explained here), helping the skin retain its turgor and elasticity.
Also in Zucca Spice is wild-harvested mango butter, adding to the healing and emollient properties of the bar. Skin-softening sea salt from France enhances the bar with its naturally-occurring minerals, which help the skin retain water.
The soap is scented mostly with organic coriander seed essential oil. Coriander seed oil has been used for centuries for its aromatherapeutic benefits. In the Ayurvedic tradition, the oil is thought to have soothing effects for the heart and stomach, and provide a sense of peace and security. In Traditional Chinese Medicine, the herb is used widely for digestive issues. And, ancient Egyptians used the oil as an aphrodisiac. It is a warm, spicy scent - reminiscent of pumpkin pie and winter festivities. Also in the soap are organic, sweet marjoram essential oil (warming); organic, sweet orange essential oil (uplifiting); and wild copaiba balsam (antiseptic). The coriander, marjoram, and copiaba balsam oils are all used for pain-relief in aromatherapy, as well, which may contribute to the deeply soothing effect of the soap.
Zucca Spice will be available for purchase in the first week of November.