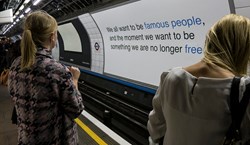 'Krishnamurti is one of the greatest philosophers of the age.' —The Dalai Lama
Winchester, Hampshire (PRWEB UK) 29 October 2013
Alongside the commercial advertisements that commuters on the Underground face everyday, they may now encounter provocative quotations by the radical Indian writer and thinker Jiddu Krishnamurti. Large, across-track posters in 27 tube stations display one of 5 quotes, as follows:

We all want to be famous people, and the moment we want to be something we are no longer free.
War is the spectacular projection of our everyday living.
Education, in the true sense, is the understanding of oneself, for it is within each one of us that the whole of existence is gathered.
Truth is a pathless land.
Have a complete break with the past and see what happens.
The Krishnamurti Foundation Trust hopes to encourage people to reflect on themes including education, war, fame, freedom and truth, in an original way. According to Bill Taylor, Development Director for the Foundation, "The intention is to introduce a new generation of people to the writings of Krishnamurti, whose message remains fresh, contemporary and increasingly relevant in today's world."
Krishnamurti (1895-1986) spoke throughout his life in many parts of the world to large audiences as well as with numerous individuals, including writers, scientists, philosophers and educators. His talks and works are preserved in more than seventy books. Writing in the Financial Times yesterday, Harry Eyres described Krishnamurti as the most radical thinker he had engaged with: http://www.ft.com/cms/s/2/a5712f7e-2482-11e3-8905-00144feab7de.html#axzz2ivv6qIHB.
The unadorned posters and their pithy quotes (unattributed) stand-out and invite commuters to pause and reflect.The posters display a website address, kft.org, which when visited places the quotes in the paragraphs from which they came and introduces readers to Krishnamurti, his writings and the School, Retreat Centre and Foundation he established at Brockwood Park in Hampshire.
Quotations About Krishnamurti:
"Krishnamurti is one of the greatest philosophers of the age." —The Dalai Lama
"For those who wish to listen, it will have value beyond words." —The Observer
"I feel the meaning of Krishnamurti for our time is that one has to think for oneself and not be swayed by any outside religions or spiritual authorities." —Van Morrison
" Krishnamurti is one man of our time who may be said to be a master of reality!" —Henry Miller
"Hearing Krishnamurti speak was like listening to a discourse of the Buddha—such power, such intrinsic authority." — Aldous Huxley
The Krishnamurti Foundation Trust http://www.kfoundation.org/ is a registered charity and oversees the operation of Brockwood Park School http://www.brockwood.org.uk/, Inwoods Small School http://inwoods.org.uk.mytempdomain.com/, and the Krishnamurti Centre http://www.krishnamurticentre.org.uk/.