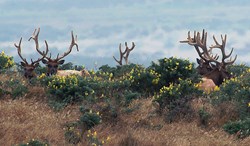 After a big day of eating turkey and hanging out with the family, it's time to flex your arms and legs and work off the second helping of stuffing!
Point Reyes Station, CA (PRWEB) November 04, 2013
After a long day of turkey, football, and family, consider heading out to the Point Reyes National Seashore this upcoming Thanksgiving weekend. Less than an hour from San Francisco, Point Reyes is an ideal place to get out, get some fresh air, and work off some of that turkey!
The semi-annual Point Reyes Open Studio is back for one weekend only, Nov. 29 - Dec. 1. Established in 1997 to help promote the work of area artists, Point Reyes Open Studio has become a destination for art lovers in the Bay Area. More than 20 artists will be displaying and demonstrating their craft over the Thanksgiving weekend - from sculpture to photography to paintings and more. A free self-guided tour also allows visitors to enjoy the beautiful surroundings, dotted with grassy hills, forested lanes, gardens and sweeping views of the area.
The Point Reyes Weekend blog also suggests a variety of other activities for the long weekend:

Nature lovers may be interested in salmon spawning in the area. Tours are available via SPAWN, the Salmon Protection and Watershed Network.
It's not too late to catch the tail end of the Tule Elk rutting reason. Tule elk is a subspecies of elk that is unique to California, and Pierce Point (the north point of the Point Reyes peninsula) is now a 2,600 acre reserve for the tule elk.
For bird watchers, it's always worth a stroll to Abbotts Lagoon, where you may be able to spot various migrating birds.
More details on these events are available on the Point Reyes Weekend blog, or explore a few area maps.
And don't forget about the burgeoning foodie scene in Point Reyes. The entire country has started taking note of Point Reyes as a home to great food, especially for its hyper-local cuisine. It's a great time to make Poiint Reyes a food destination this holiday weekend.
For periodic updates delivered to your inbox, make sure to visit and signup for our Newsletter.