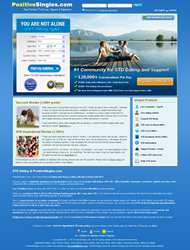 Los Angeles (PRWEB) October 30, 2013
PositiveSingles.com, a website community for STD dating and support, has recently announced the findings of a survey conducted between the years 2011 to 2013. The information from the survey reveals a dramatic increase in the number of active members on the site who are between the ages of twenty and thirty. This corresponds to the rise in sexually transmitted diseases among younger, sexually active Americans. As more teens and young adults are infected with herpes, HPV, hepatitis, and other STDs, they're turning to special support websites such as PositiveSingles.com for reassurance and consolation.
According to the survey, the percentage of PositiveSingles.com members in the twenty to thirty year old age range increased from 32.96% in 2011 to 40.57% in 2013. This is a statistically significant increase that simply cannot be explained away as fluke or error. Instead, it reflects a general trend which data from the Centers of Disease Control support. According to the CDC, which has been tracking physician visits for treatment of sexually transmitted diseases since the mid-1960s, the number of herpes cases exploded in the early 2000s and peaked around 2007, with over 320,000 initial visits to physicians associated with the treatment of the virus. Even in the last couple of years, the number of initial visits from treatment has been substantially higher than historically seen.
Experts point to several reasons for the increase in non-HIV sexually transmitted diseases in recent years. Many of the viruses that cause these diseases, such as herpes virus, can lay dormant for long periods of time. In fact, it is estimated that four out of five individuals who have herpes are not even aware of it, and are actively passing it on to sexual partners. Researchers have suggested that the only way to decrease the number of new infections is to improve sex education for both adults and teens, so that individuals can spot early symptoms and seek out appropriate treatment as soon as possible.
With more people unfortunately afflicted with STDs, it isn't surprising that so many are turning to websites like PositiveSingles.com as a way to build relationships in a responsible manner that focuses on trust, understanding, and acceptance for those suffering from such diseases. The ability to establish and grow meaningful, loving relationships is still important even for those who have been exposed to STDs in the past. Still, the survey conducted by the website is alarming because of the trend it shows of young people who are having to endure diseases that often have no known cures and will in all probability affect them for the remainder of their lives.