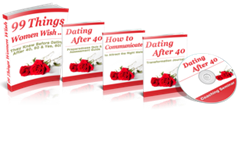 There are patterns in place that sabotage our ability to trust a new partner which sets us up for disappointment...
West Palm Beach, FL (PRWEB) October 29, 2013
On Tuesday, November 5th Dating and Relationship Coach sister-team, Rosalind Sedacca and Amy Sherman, will be providing a new teleclass on Dating Without the Drama: How to Avoid Losers, Manipulators and Game-Players.
The no-cost presentation is designed for single women and men of all ages, but especially those who are dating in mid-life. Singles over forty are more jaded, bring more baggage into new relationships and are more set in their ways. Consequently, they're more prone to playing dating games or being manipulated or manipulators. This creates doubts, frustrations, insecurities and road blocks to relationship success that don't plague younger singles as much.
Teleseminar attendees will learn how to date "smarter" with greater confidence and differentiate between "chemistry" and the real thing. They'll learn how to avoid dating turn-off behaviors and identify a "keeper" vs. a "player" early on as well as how to attract quality partners, especially if they've been in a disappointing dating rut.
"It's harder for this population to be open and receptive to new partners than when they were in their twenties or even thirties," notes Sedacca. "There are patterns in place that sabotage our ability to trust a new partner which sets us up for disappointment and a continuing cycle of relationship failures. Fortunately this cycle can be reversed by applying awareness and a new set of strategies for how you date and who you choose as a partner."
"If you're ready to have more fun, transform your love life and unlock the secrets to successful, disaster-free dating, this program will be an eye-opener for you," says Sherman. "Drama doesn't have to be a component of dating or relationships. But first we have to identify what drama is and why some of us are addicted to it. Only then can we move ahead in a more productive direction to attract a fulfilling love relationship."
Rosalind Sedacca is a Dating & Relationship Coach, a Divorce & Parenting Coach and co-author of 99 Things Women Wish They Knew About Dating After 40, 50 & Yes, 60! as well as the co-author of True Love At Last for Women Over 40: Answers You Need for the Relationship You Want! She is also the founder of the Child-Centered Divorce Network for parents and author of How Do I Tell the Kids About the Divorce? Rosalind is an Expert Blogger for The Huffington Post, an Advisor at ParentalWisdom.com as well as a Contributing Writer Annie Jennings Wire and DivorceSource.com. She also co-created the Create Your Ideal Relationship Kit for singles.
Amy Sherman has a master's degree in counseling/psychology and is a coach, trainer and co-author of 99 things Women Wish They Knew Before Dating After 40, 50, and Yes, 60! Amy understands the needs, challenges and insecurities singles face in finding meaningful relationships and helps them avoid the disasters and disappointment they often experience when dating in mid-life. She is also the author of Distress-Free Aging: A Boomer's Guide to Creating a Fulfilled and Purposeful Life and The Joy of Optimism 10-Lesson eCourse, which offer strategies for overcoming adversity and other challenges of middle age.
The singles teleseminar will take place from 8:30 to 9:45 p.m. EST via a complimentary conference line sponsored by Pre-Dating, the country's largest Speed Dating company in over 70 US Cities. To register, go to https://predatingteleseminar.eventbrite.com or call 1-877-477-3328.