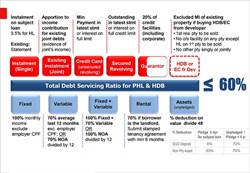 With TDSR, ABSD and SSD in place, Singapore property market expect to experience slow and sustainable growth.
Singapore, Singapore (PRWEB) October 29, 2013
Singapore property prices increase at the slowest rate in five quarters from July to September period, in line with Singapore government objective for a "Slow and Sustainable Growth" in Singapore Property Market.
Transactions has also saw a sharp drop due the TDSR implementation and also the Hungry Ghost Festival Period which developers normally hold back the launches. Between July and Septermber, total units transacted is at 2,430, versus 4,588 units in the last quarter.
Property prices increase 0.4% in the third quarter versus 1% in the second quarter of 2013. This price moderation is probably due to the latest Total Debt Servicing Ratio (TDSR), Seller Stamp Duty (SSD) and Additional Buyer Stamp Duty (ABSD) effect.
TDSR is implemented in June 2013 to capped borrowers debt obligation no more than 60% of his monthly income. A Income Weighted Average Age formula is also applied on borrowers for joint borrowings.
Seller Stamp Duty (SSD) is in place where purchasers have to pay a levy for any residential properties sold within 4 years of acquisition. 1 Year at 16% of market value, Second Year 12% of market value, Third Year 8% of market value, forth year 4% of market value. Fifth year onward the SSD will not be applicable.
Additional Buyer Stamp Duty (ABSD) is payable of the purchase of Residential Properties in Singapore by Foreigner, Companies, Singapore Permanent Residents and Singapore Citizen who owns more than 1 property.
Foreigner buying Singapore Residential properties have to pay a 15% ABSD on top of the normal 3% stamp duty. Singapore Permanent Residents have to pay a 5% ABSD for first property and 10% ABSD for second or more property on top of the normal 3% stamp duty. Singapore Citizen buying first property does not have to pay ABSD, but will apply when buying the second property and third property at 7% and 10% respectively.
In the fourth quarter, Analyst expect private property prices as well as sales transactions to pick up moderately as developers too line up projects to be launched in the fourth quarter.
Some of the projects in the fourth quarter include Alex Residences, Hills TwoOne, Seven Crescent, Thomson Three, Sky Vue etc.