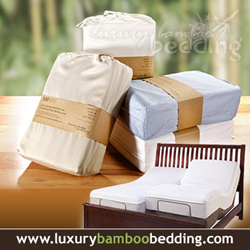 Bamboo is tomorrow's bedding.
Washington, DC (PRWEB) October 31, 2013
Luxury Bamboo Bedding announces the introduction of Split King and Split Cal King Bamboo Sheet Sets, as well as Custom Tailoring Services on its Online Storefront.
Luxury Bamboo Bedding ventured into custom tailoring to accommodate a demand for custom-made bamboo sheets for split king and split Cal king beds. Mr. Shron, the president of Luxury Bamboo Bedding, explained, "When we engaged our on-line customers and offered to convert standard bamboo sheet sets into extra-long twins for Tempur-Pedic split king and split Cal king beds, the response was immediate. Requests flowed in for matching bamboo shams, bamboo bed skirts and custom sized bamboo duvet cover sets." Bamboo sheet sets for split king and split Cal king adjustable beds are now a standard part of the bamboo sheet collection at http://www.luxurybamboobedding.com, and have the following components:
1. Two extra-long twin fitted sheets (King or Cal King)
2. A King or Cal king flat sheet (Twin flat sheets are available)
3. Two king pillow cases
When asked why the company has focused on bamboo bedding as opposed to its fine Roberto Cavalli and Glen Poloso cotton sheet collections, Mr. Shron responded, "Customer appreciation of our bamboo product has been something to behold. Bamboo sheets have made a difference in peoples' lives in that they are 'off the charts' in comfort and breathability. Our customers have discovered a wonderful path to more restful sleep and personal well-being, and we have enjoyed being part of it. Bamboo is tomorrow's bedding."
Mr. Shron has been in the bedding and apparel business for over 35 years. He built his success on innovation and excellent customer service. Luxury Bamboo Bedding was the only company in North America to receive certification in 2006 that its bamboo fiber was indeed sourced from bamboo plant tissue. Luxury Bamboo Bedding's bamboo sheets also have an Oeko-Tex Standard 100 Certification, which is renewed annually and indicates that they are free of trace chemicals and are hypo-allergenic. For custom bamboo bedding service, call 1 866 970-4800.