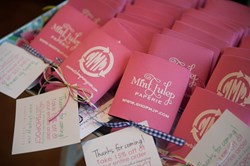 Match My Monogram owner Katy Chambers states, "We were so excited about the success of the party and the support of our local customers. Match My Monogram offers people a unique way to buy and resell unused personalized pieces."
Shreveport, LA (PRWEB) October 28, 2013
Match My Monogram the first and only online marketplace for consumers and businesses alike to upcycle unused personalized items is thrilled to announce their official launch party, which took place on Tuesday, October 15, 2013 at The Mint Julep Paperie in Shreveport, Louisiana, was a huge success. As a by-product of the partnership, consignors in the North Louisiana area can now drop off their personalized items at the store which is conveniently located in The Uptown Shopping Center. Match My Monogram will help those who drop off pieces at the store resell their beautiful unused monogrammed items.
At the party, revelers enjoyed delicious refreshments and appetizers as well as top shelf mint juleps and plenty of wine. Match My Monogram owner Katy Chambers states, "We were so excited about the success of the party and the support of our local customers. Match My Monogram offers people in the area, and all across the country, a unique way to buy and resell unused personalized pieces." Two lucky party-goers won prizes. The Mint Julep Paperie gave away a monogrammed cutting board and Match My Monogram raffled off a pair of Marley Lilly monogrammed riding boots.
Personalized pieces can be difficult to part with. Existing options like eBay or a consignment shop are so impersonal. Personalizing the outfit in the first place implies the mother wanted a special item. Match My Monogram grants the mother not only a way to resell the once-worn Thanksgiving outfit, but also provides a place for her to shop for other custom treasures. The buyer of these items will hopefully experience the same memorable moments with the pieces that the first buyer enjoyed.
Match My Monogram gives brides to be a place to resell their once-prized items. People today tend to collect monogrammed items from an early age. By the time the soon to be newlywed has found that special person to spend their life with they have accumulated quite a collection of custom pieces. Match My Monogram provides a unique place for her to upcycle her assemblage.
Match My Monogram permits family members a place to resell their unused heirlooms. Finding someone with the same name or initials is exciting. Everyone shares a certain fondness with a person that shares the same name. Betty's give other Betty's the benefit of the doubt. Match My Monogram is the high-end online version of the gift shop's coffee cup or key chain display, where you search for your name.
Finally, Match My Monogram helps businesses monetize samples and mishaps. Thousands of wholesalers and retailers both small and large have entered the personalization business. Everything from a headband to a pair of shoes are now being monogrammed. Match My Monogram has created a solution for businesses to get a little back after creating samples or making minor mistakes. Being able to resell these once unused pieces helps businesses out.
Currently, the personalizing space is experiencing a growth spurt. Match My Monogram launched due to this fact. Mothers all over the world love to personalize their children's best outfits. The days of marking your children's backpack or lunchbox with a sharpie are over. Big retailers and boutiques alike have joined the fray and are offering personalization on many items. People like things with their names on them. As shoppers continue to spend on customized items, the industry for gently used personalized goods will continue to grow. Owner Katy Chambers states, "The once-prized item or business mishap now won't be stuck in the back of a drawer or thrown in to a closet; at Match My Monogram we resell these treasures."
Match My Monogram connects consumers and sellers with the same name. Buyers can conveniently search by letter, name or initials. A match is a terrible thing to waste.
About the Company: Match My Monogram, founded by Katy Chambers, launched in July, 2013. Being a mother of two boys with plenty of outgrown monogrammed clothes and having wondered what to do with her personalized maiden name items, the question of what to do with the unusable pieces began to evolve in to an opportunity. Since the launch of the website, the product line has rapidly evolved from mostly children's clothes to a marketplace with a variety of personalized items. Match My Monogram now works with many businesses providing them an outlet for samples and mishaps.