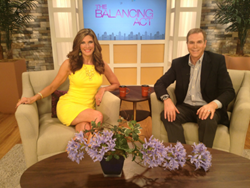 Most people just think that giving up their privacy is the cost of using the Internet; they don't know that there are ways they can protect their data while online.
Santa Barbara, CA (PRWEB) November 12, 2013
The Balancing Act® airing on Lifetime Television® will be presenting a Virtual World Computing featured segment on Wednesday, November 13 at 7 a.m. (ET/PT).
CEO and Founder, Jeff Bermant of Virtual World Computing, makers of Cocoon, a cloud based privacy and security browser will be discussing the advantages and benefits of taking security "to the cloud," offering protection to website surfers and shoppers alike.
Internet users are beginning to understand that third-party ad networks, data aggregators, and the government are tracking web activity without users' consent. By creating an entirely private and secure browsing or online shopping experience; Mr. Bermant believes strongly that users can surf and shop online without sacrificing browser security and privacy.
1. Cocoon allows you to browse privately and anonymously.
2. Cocoon keeps malware and viruses off of your computer.
3. Cocoon doesn't allow advertisers to track you around the internet.
4. Cocoon keeps you private while allowing you to store your history and cookies and a private cloud that only you have the keys to.
5. Cocoon allows you to shop privately. Cocoon offers you rebates and discounts that you can't find anywhere else on the web.
About Virtual World Computing
Cocoon is a free, all-in-one Firefox plugin developed by Virtual World Computing (VWC) of Santa Barbara, California. Cocoon's core business model is built on trust, and its mission is to put users in control of their Internet experience by ensuring that their computer and personal information is secure and protected from malicious attacks, invasive corporate and government snooping, and invasions of privacy. Cocoonshopping.com was developed to allow users to browse and shop online knowing their information is protected, all while taking advantage of some of the best deals found anywhere online.